Lawsuit accuses big pharma firms of funding terrorist organizations in Iraq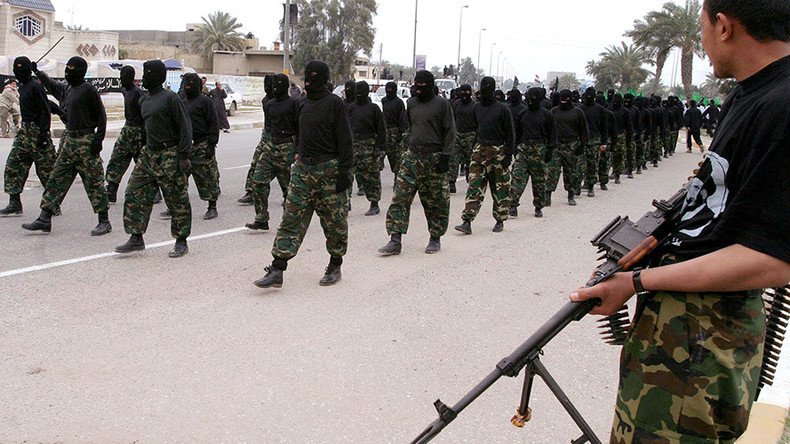 More than 100 US veterans and relatives of American soldiers killed or wounded in Iraq have sued five major pharmaceutical corporations for knowingly financing Iran-backed terrorist organizations in Iraq.
A lawsuit filed in US District Court in Washington, DC on Tuesday claims that AstraZeneca, General Electric, Johnson & Johnson, Pfizer and Roche Holding financed terrorist organizations that have killed hundreds of American soldiers in Iraq.
The companies have been accused of paying kickbacks to officials in Iraq's Health Ministry at a time when the office was controlled by the Jaysh al-Mahdi, or Mahdi Army, an Iraqi militia backed by Iran.
Although Jaysh al-Mahdi is not considered a terrorist organization by the US State Department, the Shia militia was backed by Hezbollah, which is designated as a terrorist organization. The lawsuit also includes 27 pages of itemized deaths and injuries American troops sustained from Jaysh al-Mahdi from 2005 to 2009.
The lawsuit argues the companies financed the terrorist organization by paying bribes to Health Ministry officials worth as much as 20 percent of a total contract's value.
The plaintiffs argue the companies paid Health Ministry officials these "commissions" by providing extra drugs and equipment. The lawsuit argues that these "free goods" were deliberately packaged in "a manner conducive to street resale," which ensured Health Ministry officials could then sell them on the black market or give them to fighters directly.
The plaintiffs also argue that the companies created a "slush fund" from 2004 to 2013 designed to pay for after-sales support and other services, but the money was really for the Health Ministry officials.
The plaintiffs argue that by making these payments, the companies "aided and abetted Jaysh al-Mahdi's terrorist operations against Americans in Iraq."
Beginning in 2004, the Health Ministry began requiring foreign companies to pay these "commissions" in order to win contracts. After the US invasion of Iraq threw the country into sectarian violence, Jaysh al-Mahdi, whose members swore fealty to anti-American cleric Muqtada al-Sadr, took over the ministry.
Under their control, the lawsuit says the ministry "functioned more as a terrorist apparatus than a health organization."
"Public hospitals were converted into terrorist bases where Sunnis were abducted, tortured, and
murdered. [Health Ministry] ambulances transported Jaysh al-Mahdi death squads around Baghdad. Armed terrorists openly patrolled the halls of [Health Ministry] headquarters in downtown Baghdad, which became too dangerous for Americans to enter and which one percipient witness described as a 'Mahdi Army camp,'" the lawsuit reads.
The Health Ministry became a cover for Jaysh al-Mahdi, which some US officials began calling "the pill army," because the fighters were paid in pills rather than money, according to the lawsuit.
The lawsuit cites a Pentagon press release, which stated that a senior official with alleged ties to the Jaysh al-Mahdi militia "orchestrated several kickback schemes by using inflated contracts for ministry equipment and services."
"These kickbacks, which officials believe have funneled millions of US dollars to militia elements, support sectarian attacks and violence targeting Iraqi civilians," the Pentagon said.
The lawsuit argues that the companies knew the Health Ministry was being run by a terrorist organization and cited how they have previously paid large sums of money to settle similar charges in the past.
In 2011, Johnson & Johnson paid $70 million to settle charges that its subsidiaries paid kickbacks to win contracts in Iraq and other countries. GE also paid more than $23 million in 2010 to settle charges that it had paid kickbacks for Health Ministry contracts under the Oil-for-Food program.
"Most of the defendants have a documented history of paying bribes that supported terrorism under Saddam," Ryan Sparacino, one of the plaintiffs' attorneys, told the Financial Times.
You can share this story on social media: