Two Chinese citizens charged over fentanyl trafficking
Published time: 17 Oct, 2017 17:38
Edited time: 18 Oct, 2017 07:37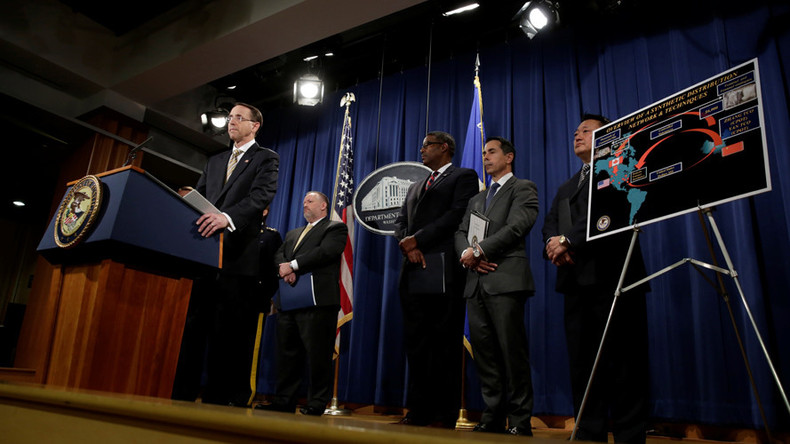 The US Justice Department announced they've indicted two Chinese drug traffickers who have been using the internet to sell and distribute the synthetic opioid, fentanyl, and its analogues to dealers and customers in the US.
The two men, identified as Jian Zhang and Xiaobing Yan, were indicted by grand juries in the Southern District of Mississippi and the District of North Dakota for "separate conspiracies to distribute large quantities of fentanyl and fentanyl analogues into the United States."
Fentanyl is a synthetic opioid pain medication, 50 time more potent than heroin and 100 times stronger than morphine. It has been linked to a rash of overdose deaths across the US.
"Zhang and Yan are the first Chinese nationals designated as Consolidated Priority Organization Targets," Deputy Attorney General Rod Rosenstein said on Tuesday. "The defendants alleged shipped massive quantities of deadly fentanyl and other synthetic opioids to communities in the United States...the chemicals allegedly killed and injured people...and surely caused misery to many thousands of people."
Yan, 40, was identified during a traffic stop in Mississippi in 2013, which unearthed a domestic drug ring. Yan was found to operate two chemical plants in China that were capable of producing fentanyl and fentanyl analogues by the ton. Using different names and company identities, Yan operated websites advertising and selling fentanyl over a period of six years, selling directly to US customers in multiple US cities.
"Federal agents identified more than 100 distributors of the synthetic opioids involved with Yan's manufacturing and distribution networks," said the Justice Department.
In a sealed indictment issued on September 7, Yan was charged with two counts of conspiracy to manufacture and distribution multiple controlled substances including fentanyl, and seven counts of manufacturing and distributing drugs in specific instances. His indictment was made public on Tuesday.
Zhang, 38, was identified when law enforcement were investigating the fentanyl overdose death an 18-year-old. Police were able to trace the drugs to a Grand Forks, North Dakota resident who had been using an encrypted website and the crypto-currency Bitcoin to buy fentanyl, heroin and other drugs over the internet for more than a year.
Agents and prosecutors traced the the drugs to Oregon, Canada and eventually China. Zhang manufactured fentanyl in at least four labs and sold the drug to US customers over the internet, distributing the drugs through the mail and international parcel delivery services.
"Agents determined Zhang has sent many thousands of these packages since January 2013," the DOJ said.
"These cases reflect a new and disturbing facet of the opioid crisis in America. More and more of our citizens are being killed by fentanyl… a few grains of fentanyl can be a lethal dose," Rosenstein said.
A sealed indictment against Zhang and eight others ‒ five Canadian citizens and two residents of Florida ‒ was issued in North Dakota on September 20, 2017. Charges against them include conspiracy to distribute fentanyl in at least 11 states, conspiracy to import drugs, money laundering, and operating a criminal enterprise. Zhang was also charged with the deaths of four people in North Carolina, New Jersey, North Dakota and Oregon, and serious bodily injuries related to five others.
If convicted, Yan faces a maximum penalty of 20 years in prison, a $1 million fine and three years of supervised release. Zhang faces up to life in prison, and a $12.5 million fine.
The Centers for Disease Control (CDC) estimates that over 20,000 Americans were killed by fentanyl and fentanyl analogues in 2016, with the number growing at an exponential rate.