Washington wants answers before giving Turks visas again – US ambassador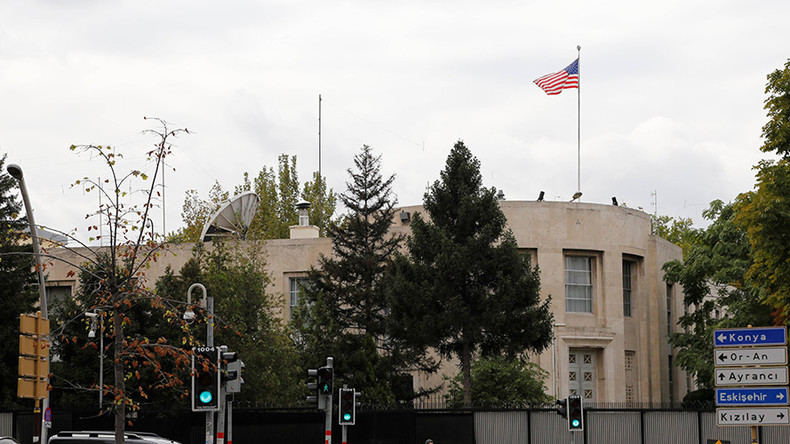 The suspension of non-immigrant visa services in Turkey will remain in effect until Washington gets a detailed response on why Turkish authorities arrested a member of American embassy staff in Ankara, US Ambassador to Turkey said.
"This suspension of services is not a visa ban on Turkish citizens. It's a suspension of our consideration of new visa applications," Ambassador John Bass said in a statement on Monday.
"If you have a valid visa, you can still travel to the United States. If you want to apply for a visa at another US embassy or consulate outside of Turkey, you are free to do so," Bass added.
The ambassador cited arrests of two members of US embassy staff in Ankara this year - both Turkish nationals - as the reason for the visa suspension, saying its "duration will be a function of ongoing discussions between our two governments about the reasons for the detention of our local staff members and the Turkish Government's commitment to protecting our facilities and our personnel here in Turkey."
Washington announced the decision on Sunday after Turkish citizen Metin Topuz, who worked at the US General Consulate in Istanbul, was arrested by local law enforcement on terrorism charges last week. A court ruled he would remain in custody while his alleged links to exiled Turkish cleric Fethullah Gulen are being investigated. Ankara blames Gulen for the failed coup last summer.
"Despite our best efforts to learn the reasons for this arrest, we have been unable to determine why it occurred or what, if any, evidence exists against the employee. The employee works in an office devoted to strengthening law enforcement cooperation with Turkish authorities and ensuring the security of Americans and Turkish citizens," Bass stated.
Washington finds the arrests intimidating for its embassy personnel in Ankara, according to the ambassador.
"We don't know if these arrests are singular events or if we should expect other Turkish staff members to be arrested for simply speaking to Turkish government officials or the wider Turkish public in the course of their duties," Bass said.
READ MORE: Turkey issues detention warrant for 2nd US consulate worker
The Turkish Foreign Ministry has urged Washington to reverse its visa decision, according to AFP.
"For the [US] ambassador in Ankara to make a decision like this, to put it into practice, is saddening," Turkish President Recep Erdogan said Monday, after his country suspended visa services in Washington in a tit-for-tat response to the US.
The current flare-up in tensions between the two NATO allies is unprecedented, Huseyin Bagci, professor of international relations at Ankara's Middle East Technical University, told RT.
"In the past we have had several crises with the United States of America and NATO, but this time the problem is different. It will be much longer and it will have much stronger implications for both sides," he said.
The last such dispute of this magnitude was after the 1974 Turkish invasion of Cyprus, Soner Cagaptay, director of the Turkish Research Program at the Washington Institute, told AFP. "Neither side is willing to step back."
"It will be hard for relations to be restored any time soon to what they used to be," Cagaptay added.
US-Turkish relations have been on the rocks since Washington's refusal to extradite Gulen to Turkey, and the US military provided support to the Kurdish YPG [People's Protection Units] militia battling Islamic State terrorists in Syria and Iraq. Ankara views YPG as an extension of the outlawed PKK [Kurdistan Workers' Party], which has been embroiled in a decades-long military confrontation with the Turkish government in the southeast of the country.