Hurricane Nate makes Louisiana landfall with winds of 85mph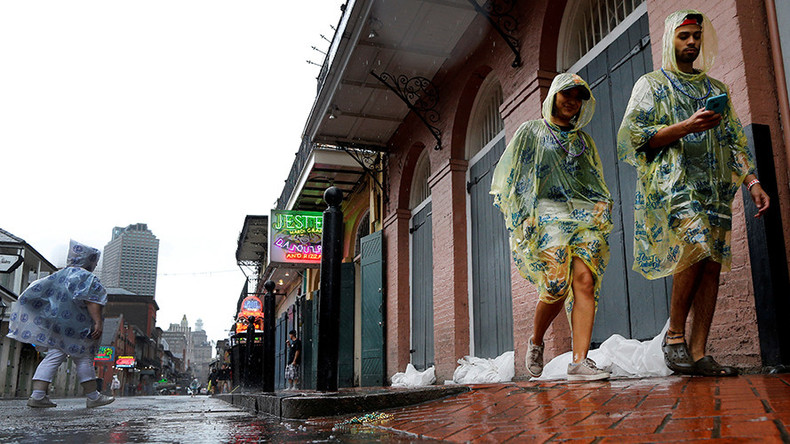 The Category 1 Hurricane Nate has made landfall near the mouth of the Mississippi River in the US state of Louisiana, registering winds of 90mph and causing flooding.
Read more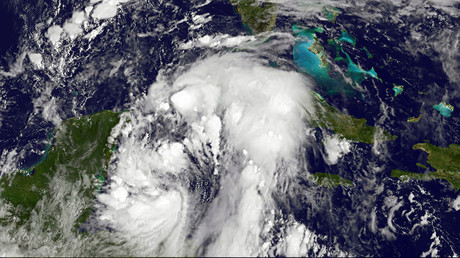 The storm made landfall on the southeastern Louisiana coast at 8pm Saturday with wind speeds reaching 85mph (137kph). Authorities in Louisiana, Mississippi, Alabama and Florida, parts of which are expected to be affected by the storm, have issued evacuation orders and declared states of emergency.
Although the storm was forecast to lose its strength and be downgraded to a tropical depression by Monday morning, Louisiana Governor John Bel Edwards urged residents to stay vigilant as the state prepares to face torrential rains and howling winds.
"We do want people to be very, very cautious and to not take this storm for granted," he said at a press conference on Friday.
Meteorologists expect the storm to make a second landfall on the Mississippi Coast on Saturday night after it passes over the uninhabited Chandeleur Islands, the easternmost point of Louisiana.
As the storm was still on its way to the Gulf Coast, rescue services saved several sailors trapped by high waves and strong winds. Two people were lifted from a sailboat in Lake Pontchartrain in southeastern Louisiana as its engine failed, while three others were pulled from the water in the Mississippi Sound after their sailboats rammed into rocks.
New Orleans Mayor Mitchell Landrieu warned citizens of possible power outages and water surges, urging them to find shelter.
Please stay vigilant: this is going to be a wind event, could become a power outage event, and will also be a storm surge event.

— Mitch Landrieu (@MayorLandrieu) October 7, 2017
Again, please stay off of the road and shelter in place so that our first responders can be free to respond to life-threatening emergencies.

— Mitch Landrieu (@MayorLandrieu) October 7, 2017
"We're in the fight now. The storm is on us," Landrieu told a briefing Saturday.
Meanwhile, the National Weather Service downgraded its warning for New Orleans from a hurricane to a tropical storm. Hurricane warnings for Grand Isle Louisiana to the Alabama-Florida border remained in place, however.