Scores of St Louis protesters arrested after highway blockage (PHOTOS)
Published time: 4 Oct, 2017 09:14
Edited time: 5 Oct, 2017 07:14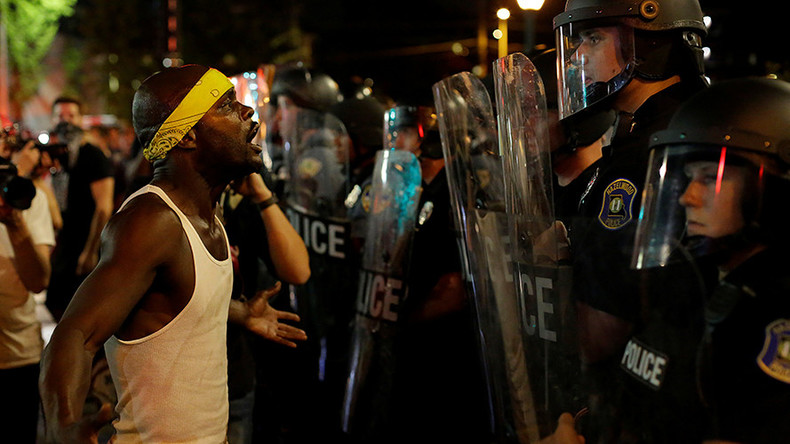 Police arrested more than 140 demonstrators in St. Louis, Missouri after they blocked a highway in ongoing protests over the acquittal of a former police officer in the 2011 fatal shooting of Anthony Lamar Smith.
More than two weeks after Jason Stockley was found not guilty of killing the 24-year-old African American, protesters are continuing to take to the streets in response to the acquittal.
READ MORE: 22 arrested in fresh St. Louis mall protests after ex-cop acquitted in black man's killing (VIDEO)
This latest demonstration took place on the eastbound lanes of Highway 40 (Interstate 64) at Kingshighway, according to the St. Louis Post Dispatch.
The group blocked traffic from accessing the lanes after marching on Jefferson Avenue.
The protesters chanted, and some carried signs reading "Black Lives Matter."
Police confirmed that all demonstrators on the scene were arrested, however, they have not confirmed the exact number of arrests. RT has reached out to the St. Louis Metropolitan Police Department for clarification on this.
St. Louis Alderman John Collins-Muhammad told local media, however, that 126 people had been taken into custody.
Democratic State Representative Bruce Franks, one of the leaders of the ongoing protests and a prominent Ferguson activist, took to Twitter to say he was among those being detained.
Left-wing internet show The Young Turks also reported that two of their employees were arrested while covering the protests.
Later demonstrators gathered outside the St. Louis justice center.