US Congressman hosted fake hearing for Ukrainian TV
Published time: 3 Oct, 2017 21:25
Edited time: 4 Oct, 2017 08:05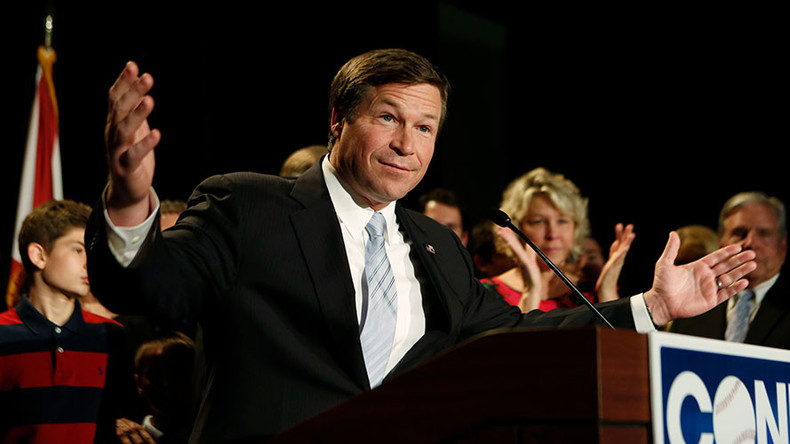 Freshman Congressman Ron Estes (R-Kansas) was reportedly tricked by a former colleague-turned-lobbyist into providing a room at the US Capitol for a sham hearing on the National Bank of Ukraine.
Ukraine's NewsOne channel broadcast in full the alleged US Congressional Committee on Financial Issues hearing about the country's central bank.
The September 25 event was heralded as revelations of "shocking details" at a hearing before the US Congress, according to the Daily Beast.
"Only thanks to the systematic work of the team that collected evidence of corruptions of the most important officials of the National Bank, the strongest of the world will find out about it," NewsOne said in the teaser.
In reality, the event was a private panel discussion in Room HC 8, hosted by former Representative Connie Mack (R-Florida).
The room was reserved by the office of Rep. Estes. A spokesman for Estes said he had no prior knowledge of the booking and that it was made by his staff as a courtesy to Mack.
Estes was elected in April 2017 to fill the seat vacated when Mike Pompeo left the House to take over as director of the Central Intelligence Agency.
No members of Congress attended the sham "hearing," but the panelists included former Ukrainian politician Serhiy Taruta, a former National Bank of Ukraine employee Oleksandr Zavadetskyi, and former CIA Director James Woolsey, who served under President Bill Clinton. Mack wore his Congressional pin during the broadcast.
Those attending the "hearing" were given a report on combating corruption in the National Bank of Ukraine, the Weekly Standard reported.
Mack left the House in 2013 to become a lobbyist. He is currently registered with a firm called Interconnection Commerce, which is headquartered in the British Virgin Islands and focused on "shining a light on corruption in Ukraine."
Mack has also worked extensively as a lobbyist for the government of Hungary.
The government in Kiev was not amused.
"The event on Capitol Hill about the National Bank of Ukraine was not a congressional hearing," Dmytro Shymkiv, deputy head of the Ukrainian Presidential Administration, told the Weekly Standard in an email. "The discussion was held without public scrutiny and was sponsored by a secret source. It just happened to be convened in a room in Capitol Hill by an American who was once, years ago, a congressman."
The spokesman for Estes said that the policy for booking rooms has been updated to ensure this doesn't happen again.