Trial underway of alleged mastermind of Benghazi attack
Published time: 2 Oct, 2017 23:47
Edited time: 3 Oct, 2017 07:40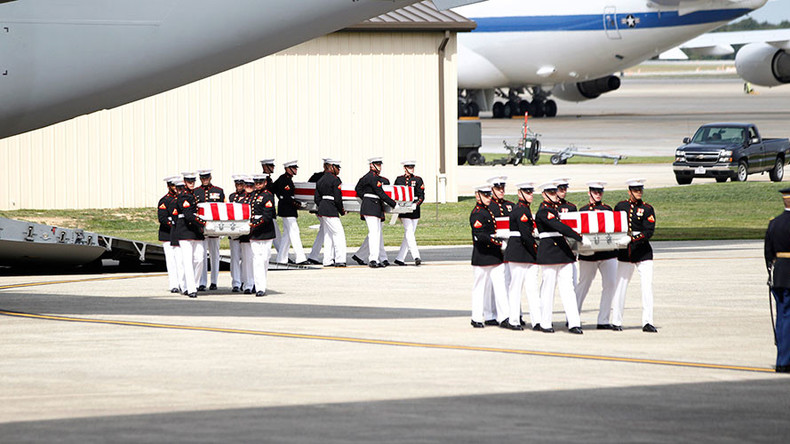 The trial of the man accused of planning the attack on the US diplomatic compound in Benghazi in 2012, killing the US Ambassador to Libya and three other Americans is underway at a US federal court.
The once anti-Gaddafi militia leader Ahmed Abu Khatallah hates America "with a vengeance" and played a leading role in organizing the September 11, 2012 attack on the US diplomatic mission in Benghazi, federal prosecutor John Crabb said in his opening statement.
Khatallah "didn't do the killing by himself," he said. "He didn't light the fires and he didn't fire the mortars but you will hear he is just as guilty as the men who lit those fires."
Crabb told the jury they would hear from witnesses who heard Khatallah discuss his plans. One of them heard Khatallah say he "would have killed all of the Americans that night," Crabb said. That witness was later paid $7 million to help the United States lure Khatallah to the spot where he was captured, Reuters reported.
Khatallah's defense attorney said his client had nothing to do with the planning of the attack and went to the compound to see what was happening. The attorney also argued that some of the government's witnesses "are people who lie" and that his client's statements to the FBI were never recorded and may have been incorrectly translated.
Khatallah, 46, who faces 18 US federal charges including murder and providing material support to terrorists, was wearing headphones during the trial to hear Arabic translation of the proceedings.
The Libyan has been held at a detention center in Alexandria, Virginia for three years following his capture by a team of US military and FBI officials in Libya in 2014.
Khatallah commanded a small militia during the 2011 uprising against Libyan leader Muammar Qaddafi. The Obama administration at the time backed anti-Gaddafi forces and helped to kill the Libyan leader later that year.
The attack on the Benghazi compound the following year lasted over eight hours during which US government personnel repeatedly called for help. Ambassador Christopher Stevens and three other Americans — Sean Smith, Tyrone Woods and Glen Doherty — were killed in the assault.
The Obama administration's response to the attack became the matter of a congressional investigation which entangled then-Secretary of State Hillary Clinton.
It was revealed that top administration officials knew that it was a pre-planned terrorist attack when they initially told the public that it happened as a result of a spontaneous demonstration over an anti-Muslim video.