'Wasn't trying to be Snowden': Suspected NSA leaker who smuggled files in pantyhose tells FBI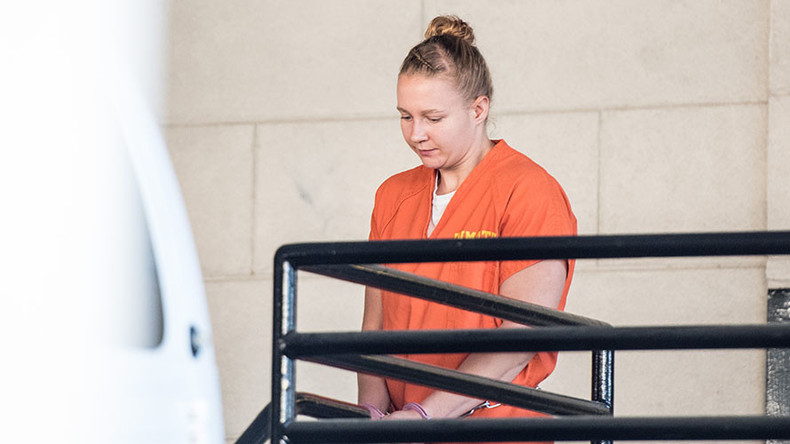 Accused NSA leaker Reality Winner told the FBI she had smuggled the classified report on 'Russian election hacking' out of the agency in her pantyhose, according to a redacted transcript of her interview with the authorities.
Winner initially denied that she mailed the classified report, and insisted she printed the report and kept it on her desk for three days, after which she said she discarded it by putting it in the burn bag, according to the transcript published by Politico on Wednesday.
"I thought it was interesting and I thought I would read it," Winner told FBI special agents. "And then I said no, and I need to not leave it out on my desk, so I put it in the burn bag."
"So how would you think that a document would end up getting out?" asked Special Agent Justin Garrick.
"Let's be straight, there's little to no security on documents. Nobody pats you down," Winner told the FBI.
After agents pressed her several times, Winner then admitted to smuggling the report, folded in her pantyhose, from the secure NSA complex in Georgia.
"I wasn't trying to… wasn't trying to be a Snowden or anything," Winner said, referring to NSA whistleblower Edward Snowden, the former contractor who leaked secrets from the NSA's spying program in 2013.
The leaked report, published by The Intercept in June, dealt with an 'attempted hack' by Russia's military intelligence unit during the contentious 2016 US presidential election. The classified report, dated May 5, said Russia had performed a cyberattack on at least one US voting software supplier, along with sending phishing emails to over 100 election officials, days before voters headed to the polls.
Prosecutors are using Winner's own words against her as they urge a federal judge to keep the former Air Force translator jailed until her trial.
Winner's attorneys have asked a judge to exclude the FBI interview from being used as evidence. It was obtained as agents executed a search warrant at her home in June. Defense attorneys said agents never read Winner her Miranda rights. She had not been formally arrested but Winner's attorney said she had every reason to believe she was in custody, according to AP.
The judge has not ruled on that motion yet.
After a six-year stint in the Air Force, Winner left in December 2016. Fluent in Farsi, Dari and Pushtu, was hired as a contractor by the NSA in January. In her work, she would translate documents from Iranian Aerospace Forces Office from Farsi to English. Winner explained to the FBI she wanted her clearance back so she could get a deployment to Afghanistan, according to the transcript.
"I felt really hopeless and seeing the information that had been contested back and forth, back and forth in the public domain for so long, trying to figure out with everything else that keeps getting released and keeps getting leaked, why isn't this getting out there? Why can't this be public?" Winner said during the interview.
When asked why she decided to leak the report and information she knew was valuable to adversaries, Winner said that she thought the secret "sources and methods" mentioned in the report were already known to the public.
"I just figured that whatever we were using had already been compromised, and this report was just going to be like a one drop in the bucket," Winner said.
A bond hearing is scheduled for Friday. Her lawyers say it's unfair to keep Winner locked up pending her trial.
Winner has pleaded not guilty. She faces up to 10 years in federal prison if she's convicted. The trial is set for March 2018.
You can share this story on social media: