Unhappily ever after: 'Brides' march in NYC against domestic violence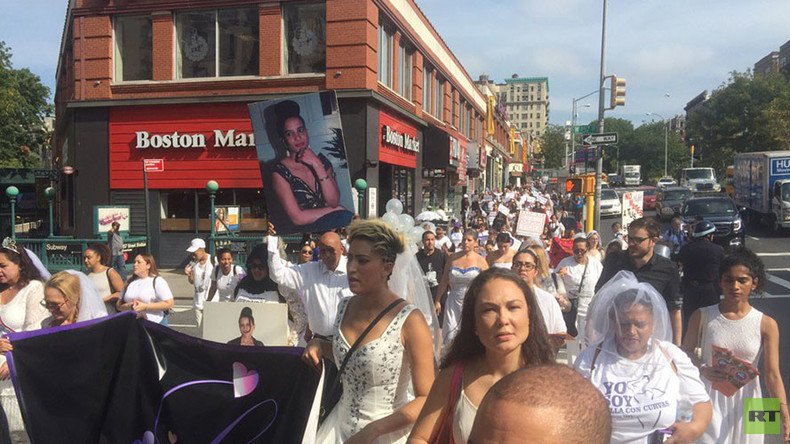 Over 200 women, many dressed in bridal gowns, joined the Brides March through Manhattan on Tuesday, an annual event aiming to draw public spotlight on the often hidden scourge of domestic violence.
Prior to the march, the women lined up on the pews of Christ Church in Washington Heights section of New York for a ceremony with survivors and advocates who gave testimony about the continuing numbers of deaths from domestic violence and the occasional victory from a survivor.
This years event coincided with proposed federal cuts to funds which provide help for victims.
New York City's First Lady, Chirlane McCray, wife of the Mayor De Blasio, came in a gown as did Public Advocate Tish James, and they led out the march on a route through Washington Heights, the Bronx and East Harlem.
Each surrogate bride carried a white placard printed in black lettering with the year, and a number of victims, "2004 – 67 victims," "2005 – 68 victims, 2006 - 73 victims."
Organizers said if you add up all the women murdered by their husbands or boyfriends since 9/11, and then add all the Americans killed in 9/11 and in the wars in Afghanistan and Iraq, more women have been killed by their husbands and boyfriends.
In a move that signifies progress on the issue, it was announced that the New York Police Department has changed its policy so that those who do not speak English, and are involved in a domestic violence dispute, can get help in their own language through the use of translators.
Tied in little ribbons to the skirt of Emily Baratta's wedding dress were press clippings from the New York Daily News of just this year's domestic violence murders in the city.
"A man who chops up his wife and refuses to tell her family where her body parts so they can bury her. A man who didn't want his girlfriend to continue the pregnancy so he put something in her drink to cause an automatic abortion," Baratta told RT.
"There is story after story. The worst part is that domestic violence statistics have gone down. Do you know why? Because of Trump, undocumented immigrants are afraid to come forward, afraid to come into the emergency room, they are afraid to report," Baratta added.
The first march took place on September 26, 2001, to remember Gladys Ricart, a Dominican woman from Washington Heights who was murdered in New Jersey by her abusive former boyfriend on the day she was to wed her fiance.
It was organized by another Dominican woman, Josie Ashton, who was so incensed by the lack of response by the media and community to Ricart's murder that she walked in a wedding gown through several states down the East Coast ending in her home state of Florida "to draw attention to the horrors of domestic violence."
Running concurrently with the Brides March in upper Manhattan is a march in Queens.
'Ya Bastia, enough is enough, of intimate abuse, of social abuse, of political abuse. Due to federal directives under the President's skinny budget proposal for fiscal 2018 shows an alarming cut of 18 percent to the Department of Health and Human Services and 4 percent to the Department of Justice," said Carmina Jacobs, who sits on the committee for Brides March.
Jacobs said if the cuts are implemented it would affect the outcomes for over 260,000 victims who would not able to access shelters, and social programs at the federal, state and local level.
Jacobs urged the audience to take action by calling their congressional representatives to stop the proposed budget cuts and to reauthorize the Violence Against Women Act.
The Act, created by bipartisan effort under the Clinton Administration, provides billions of dollars each year toward investigation and prosecution of violent crimes against women.
The Act established the Office on Violence Against Women within the Department of Justice.
By Rebecca Myles
You can share this story on social media: