'Violent times will come': End-of-the-world alarm interrupts broadcast in California
Published time: 22 Sep, 2017 16:17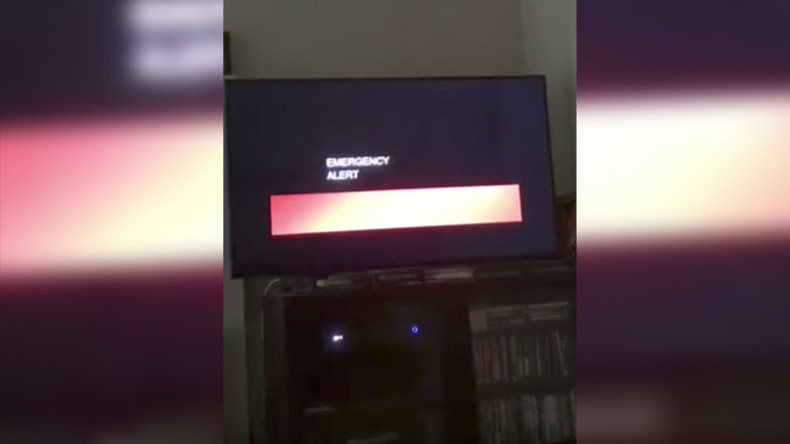 Viewers across Southern California have received an apocalyptic warning from their TV sets during a morning broadcast which was interrupted by an ominous voice promising "extremely violent times" to come.
An emergency alert appeared on the screens of Southern California residents at around 11am on Thursday. Videos shared online show the warning against a black screen, followed by a man's voice saying: "Realize this, extremely violent times will come."
READ MORE:Doomsayers watch countdown to Sept 23 'Planet X' event rubbished by NASA
"It almost sounded like Hitler talking. It sounded like a radio broadcast coming through the television," a Lake Forest resident, Stacy Laflamme, who watched broadcast via Cox cable system, told the Orange County Register. Clients on Spectrum cable, too, heard the alert.
"I was definitely startled, because the volume increased exponentially," Erin Mireles from Diamond Bar said, adding she assumed it was a hack of some kind.
The bizarre message got California residents wondering as to what had happened. One Reddit user called it "totally creepy," while another said it was "the most unsettling thing I have heard in my life."
"Right? Right? One second I'm watching Keeping up with the Kardashians, the next I get this emergency alert about the impending violence," a commentator wrote.
Others suggested that the spooky signal had something to do with a prediction by a group that the world would end on Saturday. A self-proclaimed specialist in research and investigations, David Meade, claims the Earth will end on September 23, citing verses from the biblical Book of Luke.
However, a Cox representative said the glitch occurred due to emergency tests conducted by radio stations, saying the customers heard the radio programming.