Ex-FBI director Comey heckled at historically black college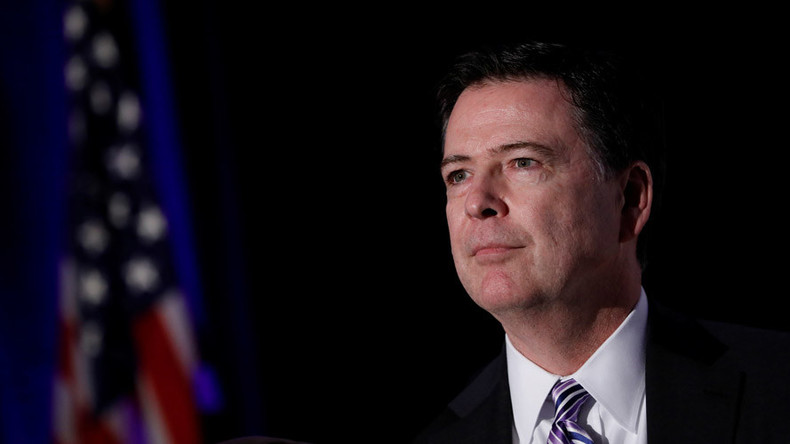 Hecklers tried to drown out a speech by former FBI director James Comey at Howard University in Washington, DC. Howard, a historically black college, hired Comey as a special guest lecturer.
A group of students in the back of the auditorium have kept up chants like "We shall not be moved" and "We are here to reclaim this space" and "No justice, no peace," as Comey spoke over them.
"Welcome to Howard. I'm honored to be here and I'm looking forward to adult conversations about what is right and what is true," Comey said at the conclusion of his remarks.
The former FBI director is the keynote speaker at the 150th opening convocation at the university, greeting the incoming class of students. He was hired by Howard to give five lectures on several topics, which have yet to be announced. The $100,000 compensation will be donated to a scholarship fund for students that come from foster homes, Howard officials said.
Friday's protest appears to be organized by a group calling itself Howard University Resist. One of the group's tweets described Comey's speech as "a white man trying to silence and overshadow the voices of Black people."
Under Comey, the group says, the FBI spied on Black Lives Matter organizers, activists and protests. They also accuse Comey of coining the term "Ferguson Effect," to describe the effect of movements like Black Lives Matter on law enforcement.
"Mass incarceration has served as a means to profit off of the criminalization of Black and Brown bodies, which Comey refers to as weeds," the group argued on Twitter. "We want administration to know that there is no room for white supremacy on this campus."
Some 400 students signed their petition against having Comey as the convocation speaker, HU Resist said.
Comey led the FBI from September 2013 to May 2017, when he was fired by President Donald Trump. His dismissal drew condemnation by the opposition Democrats, who painted it as an attempt by Trump to disrupt the FBI's investigation into alleged Russian interference in US elections.
Comey later testified to Congress that he made memoranda about his meetings with Trump, some of which he leaked to the media in order to ensure the appointment of a special counsel - which turned out to be his personal friend, former FBI Director Robert Mueller.
You can share this story on social media: