Police car torched, 2 cops hurt in Georgia Tech riot after police shooting of student (VIDEOS)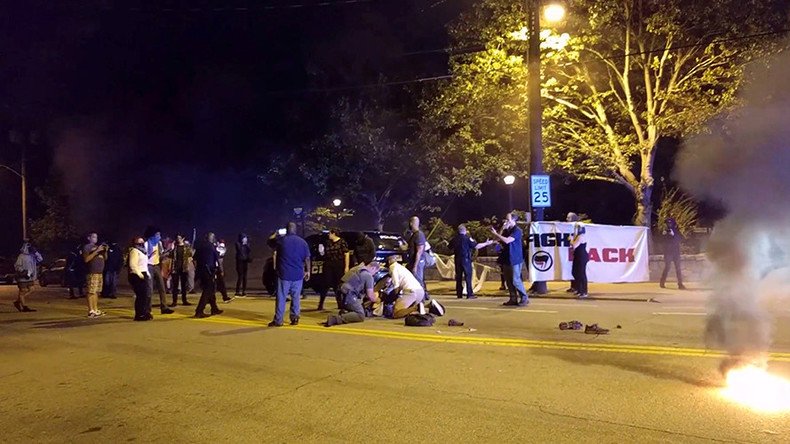 A police car was torched and at least 2 officers injured as violence broke out at Georgia Tech in Atlanta over the deadly police shooting of 21-year-old Scout Schultz, after he refused orders to drop a knife.
A peaceful vigil was held Monday night to honor the life of Schultz, but then mayhem broke out.
"Seek shelter in a secure location," Georgia Tech instructed students, as dozens of people protested at the headquarters of the Georgia Tech Police Department, where a squad SUV was set on fire.
Chad Miller, a Georgia Tech alumnus who took part in the protest, told The Atlanta Journal-Constitution that he saw the police vehicle erupt into flames.
"All I heard was metal hitting metal. I'm guessing it was fireworks, there were some pretty powerful ones," Miller said, "I was marching with them until they got in front of the police station and then all hell broke loose."
Two police officers had minor injuries, with one needing medical attention, according to AP. Three people were arrested and charged with inciting a riot and battery of an officer.
One of the witnesses told local WSB-TV that he saw demonstrators clashing with police.
"The police department was fighting with them actually. I saw some police officers put them in the ground," Ammar Hawa said.
Schultz was shot once in the heart late Saturday night, according to the Georgia Bureau of Investigation (GBI), which found that Schultz made a 911 call to police that night, reporting a man with possibly a knife or a gun. Four officers responded, ordering Schultz, who was barefoot and carrying something, to "drop the knife."
In a witness cellphone video, Schultz can be heard saying, "shoot me," as he stepped toward one of the officers, who then opened fire, killing him. The officer's name has not been released.
The GBI also found that Schultz left three suicide notes in his dorm room, but there was no gun. The only knife in his hand was part of a multi-purpose tool, like a Swiss Army knife.
Family attorney L. Chris Stewart described Schultz, as seen in a witness' cellphone video, as "disoriented" and having a "mental breakdown." Stewart contends that the officer who shot Schultz overreacted.
A family statement urged the protests to remain peaceful.
"On behalf of the family of Scout Schultz, we ask that those who wish to protest Scout's death do so peacefully. Answering violence with violence is not the answer," it read, according to AP. "Our goal is to work diligently to make positive change at Georgia Tech in an effort to ensure a safer campus for all students."
Schultz was the president of the Georgia Tech Pride Alliance, an LGBT group on campus. He preferred the pronouns 'they' and 'them,' rather than 'he' and 'him.' He identified as bisexual, "nonbinary," and "intersex."
"Scout's sudden and tragic death today has been devastating news for the Schultz family and classmates — and for members of the community who knew Scout personally, the shock and grief are particularly acute," said John Stein, dean of students and vice president of Student Life.
He had previously attempted suicide, AP reported, according to Schultz's father, William Schultz, and his lawyer.
William Schultz told reporters that he wanted to ask the shooting officer, "Why did you have to shoot? That's the question. I mean, that's the only question that matters right now. Why did you kill my son?"
You can share this story on social media: