'Gigantic mob' of bees attack in California, six people hospitalized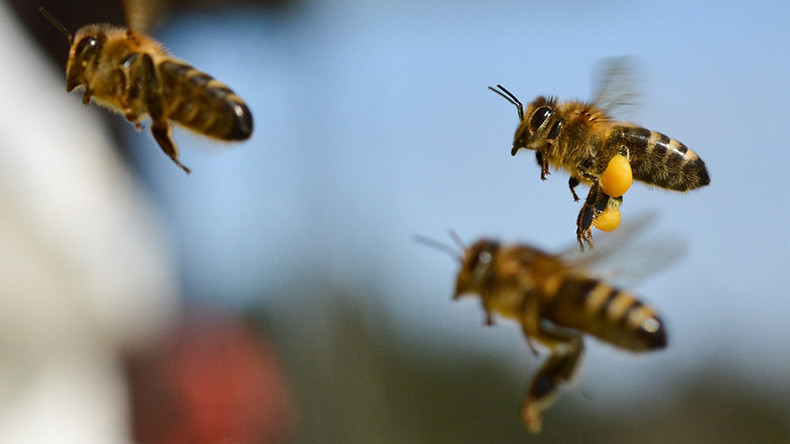 Six people were hospitalized after a swarm of bees attacked people on the outskirts of Los Angeles on Saturday, forcing authorities to cordon off the area.
Firefighters were called to the incident shortly before 5pm on Saturday following reports that people were being stung by bees in the parking lot of a grocery store in Monterey Park, a city in the suburbs of LA.
READ MORE: Buzz off! Antisocial bees share genetic profile with autistic people, study says
Local news outlet KTLA reports that the attack started after a wild beehive in the lot was disturbed.
The chief of the city's fire department, Mark Khial, told the news outlet that two women were "completely covered" by the insects.
Khial said that three people and three firefighters were forced to go to the hospital because of the amount of times they were stung. It's unclear what species of bee was involved.
"There was this gigantic mob of bees chasing people around. People were screaming and trying to go inside or trying to leave," eyewitness Isabel Hernandez told ABC 7.
Neil Lankin of the fire department said when he arrived, other firefighters were already being attacked by the bees.
"On my arrival, there were two engine companies and a truck company that were being actively stung by bees that were swarming, agitated, and actively protecting themselves," he said.
The firefighters sprayed the hive and its host tree with protective foam to tackle the bees.
"I went in and sealed any areas that bees were congregating with some high-density foam and we used firefighting foam to suppress any bee behavior," Lankin said.
The fire department reported that the people hospitalized are expected to make a full recovery.
You can share this story on social media: