Pro-Trump 'Mother of All Rallies' eclipsed by Juggalo event in Washington DC (VIDEO)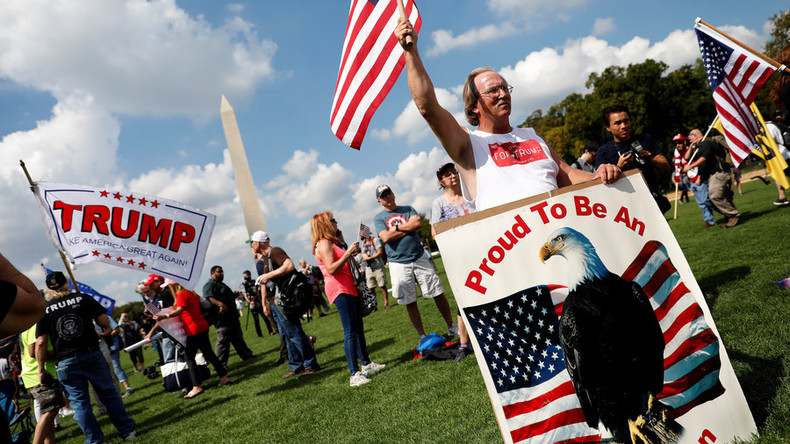 The pro-Trump event, billed as the 'Mother of all rallies,' or MOAR for short, held in Washington, DC Saturday appears to have failed, in a sign that in the capital at least, support for the POTUS is waning.
The organizers said on the event's Facebook page that their goal was to have one million people turn out for the rally in America's capital. Around 2,000 people said they were going to the rally on the social media channel while a further 6,000 marked themselves as "interested."
The event kicked off at around 11am local time at the north end of the National Mall, near the Washington Monument. However, by late afternoon, it had failed to live up to the hype and was soon eclipsed by another nearby rally organized by the Juggalo movement.
According to the Mother of All Rallies website, the purpose of the event was to "send a message to Congress, the media and the world. We stand united to defend American culture and values." However, so few people showed up to the event that even the counter-protests were lackluster, with many losing interest shortly after arriving, opting instead to observe the Juggalos reports The Independent.
Following the attack in Charlottesville which claimed the life of counter-protester Heather Heyer, the web page stated that only USA flags were allowed at the event: "No Confederate flags, Communist flags or foreign flags allowed this is not a Democrat or Republican rally."
Speakers at the rally included congressional candidate for California Omar Navarro and the founder of Latinos for Trump, Marco Gutierrez.
"This is about protecting and supporting President Donald Trump, protecting our Constitution, and protecting our flag and all that it stands for," the page added.
Numerous road closures were in place in around DC to facilitate the event.