Irma: Abandoned pets' owners facing criminal charges
Published time: 16 Sep, 2017 15:46
Edited time: 18 Sep, 2017 06:28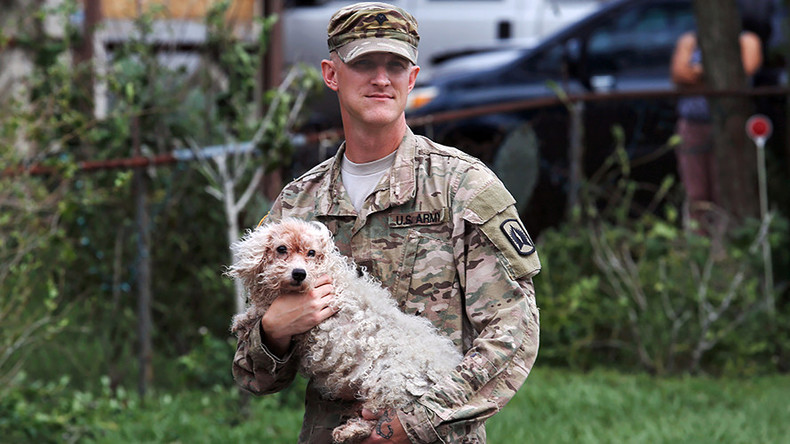 Pet owners who abandoned their animals during Hurricane Irma may face criminal charges in Florida. Palm Beach prosecutors said they intend to hold offenders accountable.
More than 50 animals were found abandoned, many tied to fences and trees in Palm Beach county when Irma made landfall last week. Some dogs were found inside homes, while others were enclosed in outdoor pens.
"Absolutely unacceptable. People need to be responsible pet owners in this community," State Attorney David Aronberg told WPTV. "There's no excuse for leaving your pet behind to die."
In Palm Beach County it is illegal to tether a dog if there is no one present. It is also a felony offence to keep a dog outside during extreme weather.
Offenders could see themselves facing felony animal cruelty charges, and none of those who abandoned their animals will be able to get them back.
State prosecutors and Animal Care and Control are working together to track the owners responsible by various means, including interviewing neighbors and checking pet microchips.
"We are going to hold accountable those who we can prove left their dogs behind in the storm," Aronberg said.
The American Society of the Prevention of Cruelty to Animals reports more than 1,200 animals impacted by Irma in Florida and South Carolina had to be rescued, relocated and given emergency shelter.
While there were a number of animal-friendly shelters in Florida, some pet owners may not have been aware of, or able to reach, these shelters.
Following Hurricane Katrina in 2005, when people refused to evacuate because of their pets, the Pets Evacuation and Transportation Standards Act was created to "to ensure that state and local emergency preparedness operational plans account for the needs of individuals with household pets and service animals before, during and following a major disaster or emergency."