What happened? Amazon purging bad reviews of Clinton's book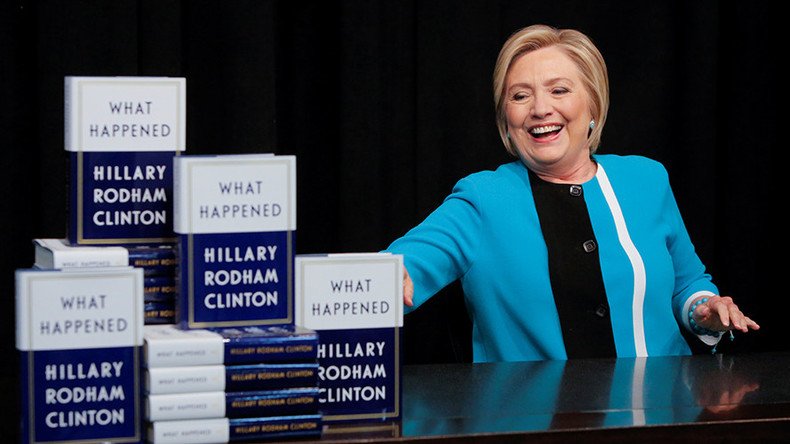 The online retail giant Amazon has been accused of censorship after it removed many one-star reviews of Hillary Clinton's memoir for supposedly violating "community guidelines."
Amazon has acknowledged removing hundreds of one-star reviews of Clinton's memoir, 'What Happened,' claiming they have the right to uphold reviews from legitimate customers.
"In the case of a memoir, the subject of the book is the author and their views," an Amazon spokesperson told Fortune. "It's not our role to decide what a customer would view as helpful or unhelpful in making their decision. We do however have mechanisms in place to ensure that the voices of many do not drown out the voices of a few and we remove customer reviews that violate our community guidelines."
As a result, Clinton's memoir had five out five stars from over 700 reviews, as of Friday morning. However, the top eight "most helpful" reviews, picked by users, gave the book one or two stars.
"If Amazon doesn't like what we have to say, don't ask for input," said one reviewer, who said their feedback was deleted three times.
ReviewMeta, a website that analyzes the authenticity of Amazon reviews, said that 25 percent of reviewers of Clinton's book were "suspicious," a designation it gives users who have only reviewed one title.
Amazon's guidelines for customer reviews state that a reviewer must spend at least $50 before contributing a comment and the content can't be "libelous, defamatory, harassing, threatening or inflammatory."
This is not the first time the Seattle-based online giant has cracked down on negative book reviews. Former Fox News anchor Megyn Kelly got the same treatment when her memoir, 'Settle for More,' was published last November.
At one point, three in four reviews of Kelly's book were one-stars. Many were linked to a Reddit forum called "The_Donald," fans of President-elect Donald Trump, according to the Los Angeles Times.
Amazon removed many, but not all, of these reviews, saying they were politically motivated.
Harper Collins, Kelly's publisher, told the LA Times that the negative reviews had "the hallmarks of an orchestrated effort to discredit the book and out author Megan Kelly," adding that they "brought it to the attention of Amazon."
One reviewer gave the book a single star for the memoir being nothing more than "Anti-Trump." Another wrote the author was still upset "over Trump calling her out."
Amazon has been on a "witch-hunt" to remove biased reviews since 2012, using an automatic system, wrote blogger Dave Chesson.
In 2015, independent author Brenda Perlin said that one of her book reviews was deleted by Amazon, because the company said she knew the author personally, based on Parlin's account activity.
"That blew me away. I mean, most of us indie authors know each other in one form or another. Mostly we know each other from social media. I mean, isn't that why SOCIAL MEDIA got its name?" wrote Perlin in a post titled 'Amazon Steps in As Big Brother.'
"I bought and read the book. There was no malice but I might as well been talking to a great big concrete wall," wrote Perlin. "It was like having a conversation with robots? Maybe the robots have taken over the Amazon hemisphere because there was no humanity or reasoning with this so called 'review appeals board'."
You can share this story on social media: