'Racism is as American as baseball': Banner sparks uproar at Red Sox game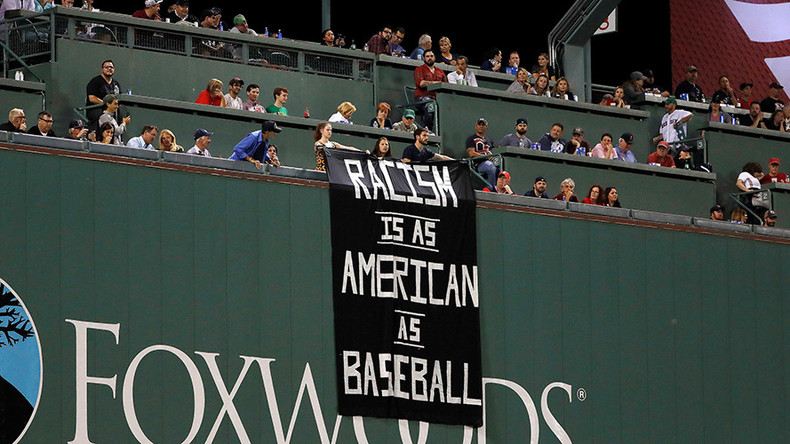 The national pastime of the US became draped in controversy Wednesday when a banner reading 'Racism is as American as baseball' was displayed at a Red Sox game – confusing and angering fans in equal measure.
The large black and white banner was unfurled at the showdown with Oakland Athletics in Boston's Fenway Park and was met with boos from the crowd.
The banner's owners were told to remove it by umpires and security, but they refused. The four individuals were then removed from the stadium for violating the policy "prohibiting signs of any kind to be hung or affixed to the ballpark."
The banner was seen as a message in support of racism, and people expressed their disgust on social media. However, the banner's intended message was later revealed.
"The banner came in response to the racist comments at the beginning of the season at Fenway," the unnamed banner owner told CSNNE.
They were referring to Adam Jones from the Baltimore Orioles who in May reported being called the n-word and having peanuts thrown at him while playing at Fenway Park.
"We see Boston continually priding itself as a kind of liberal, not racist city, and are reminded also constantly that it's actually an extremely segregated city," they continued.
"It has been for a long time, and that no white people can avoid the history of racism, essentially. So we did this banner as a gesture towards that, to have a conversation about that."
After it emerged that the sign was not in fact a nod to racism, rumors circulated that the protesters were part of AntiFa, with some media also reporting it as such. The claim was flatly denied by the banner holders.
"The five of us are in no way associated with Antifa nor did Antifa Boston have anything to do with the action," one told CSNNE. They shared an image of them doing a practice run with the banner as evidence.
"We want to remind everyone that just as baseball is fundamental to American culture and history, so too is racism," the group said in a statement. "White people need to wake up to this reality before white supremacy can truly be dismantled. We urge anyone who is interested in learning more or taking action to contact their local racial justice organization."