Supreme Court blocks 9th Circuit restrictions on Trump's refugee ban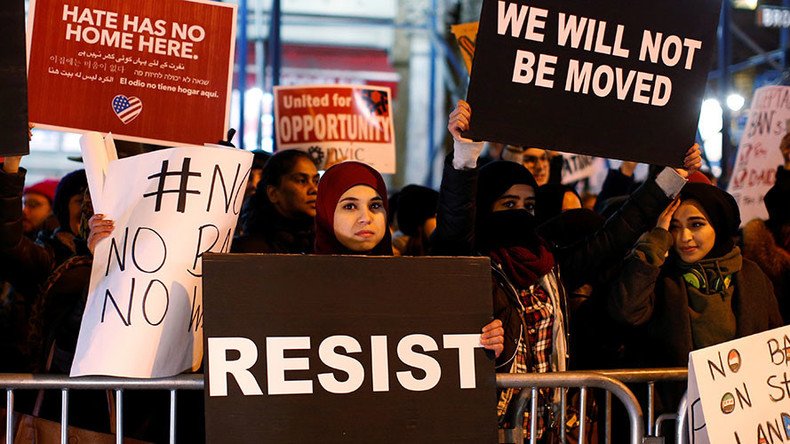 The US Supreme Court has temporarily blocked a lower court's ruling which outlined exemptions from the Trump administration's temporary ban on refugees.
The Department of Justice asked the Supreme Court early on Monday to stay the decision by the 9th Circuit Court of Appeals, which sought to expand the class of refugees that could be admitted to the US.
The California-based 9th Circuit ruled on Thursday that "refugees who have formal assurances from resettlement agencies or are in the US Refugee Admissions Program ("USRAP") through the Lautenberg Amendment" should be allowed in.
President Donald Trump initially ordered a temporary ban on almost all refugee admissions to the US.
While federal judges immediately sought to block the order, the Supreme Court allowed it to partially go into effect in a June 26 ruling, specifying that exemptions must be made for those with "a bona fide relationship with a person or entity in the United States."
Several conservative Justices were unhappy with the phrasing, predicting it would lead to endless litigation and efforts by lower courts to interpret it as broadly as possible.
READ MORE: US Supreme Court allows grandparents as family relationship under travel ban
Since then, several motions have been filed against the Trump administration's implementation of the restrictions, claiming that the government's definition of a "bona fide relationship" was too narrow.
The 9th Circuit also ruled that extended family such as grandparents, uncles, nieces, nephews, and cousins of persons in the United States should be exempt from the travel ban, which restricts entry for citizens of six predominantly Muslim countries – Iran, Libya, Somalia, Sudan, Syria and Yemen.
Monday's filing from the DOJ did not contest that portion of the ruling, Reuters reported.
You can share this story on social media: