'America cannot be intimidated': Trump at Pentagon on 9/11 anniversary
Published time: 11 Sep, 2017 14:44
Edited time: 19 Oct, 2017 06:36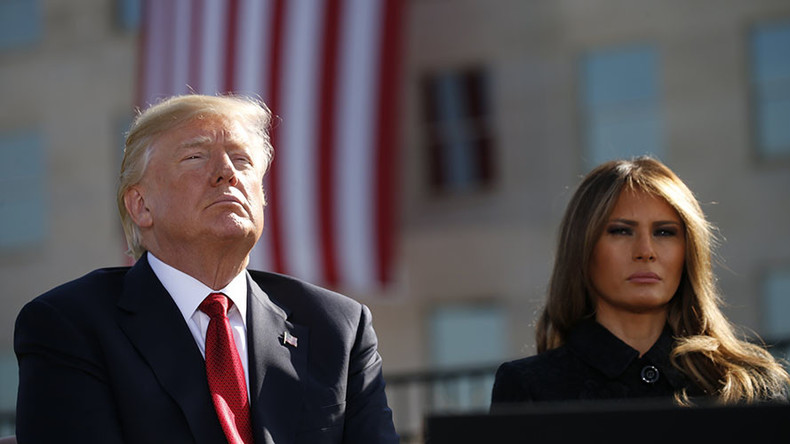 Terrorists who hoped to intimidate America only strengthened US resolve to pursue them to the ends of the earth, President Donald Trump said at the Pentagon commemoration of the September 11, 2001 terrorist attacks.
"On that day not only did the world change, we all changed. Our eyes were open to the evil we faced," Trump said, speaking Monday morning at the Pentagon memorial marking where American Airlines Flight 77 crashed into the building, killing 184 people.
US troops are "relentlessly destroying" the terrorists wherever they may be, Trump said.
"We are making plain to these savage killers that there is no dark corner beyond our reach, no sanctuary beyond our grasp, and nowhere to hide," the US president said.
Before traveling to the Pentagon, Trump and the First Lady observed a moment of silence at the White House. It is the first time the native New Yorker has observed the anniversary as president.
Meanwhile, a large crowd in New York City gathered where the World Trade Center once stood, to pay homage to over 2,700 people who died when the buildings were struck by two hijacked airliners.
Vice President Mike Pence attended the ceremony in Shanksville, Pennsylvania, where United Flight 93 crashed into a field, reportedly after some 40 passengers on board struggled with the hijackers for control.
"The American people will forever be inspired by their courage and resolve," Pence declared. The passengers may have saved his own life, he added in a voice on the verge of cracking, as the hijacked plane was reportedly bound for the US Capitol, where he was serving as a member of Congress at the time.
As for the terrorists, the Trump administration will work to "prevent such evil from ever reaching our shores again," he said.

Noting that the 9/11 attack was orchestrated by Al Qaeda from its safe haven in Afghanistan, Pence said the US will remain in that country "until we eliminate the terrorist threat to our homeland once and for all."
Though Trump campaigned on the platform of withdrawing from Afghanistan, last month he decided to send additional troops to prop up the US-backed government in Kabul against the resurgent Taliban.
According to the Department of Defense, nearly 7,000 US troops were killed and over 52,000 injured in operations in Afghanistan and Iraq since October 2001.