Private email server was my 'most important mistake' - Hillary Clinton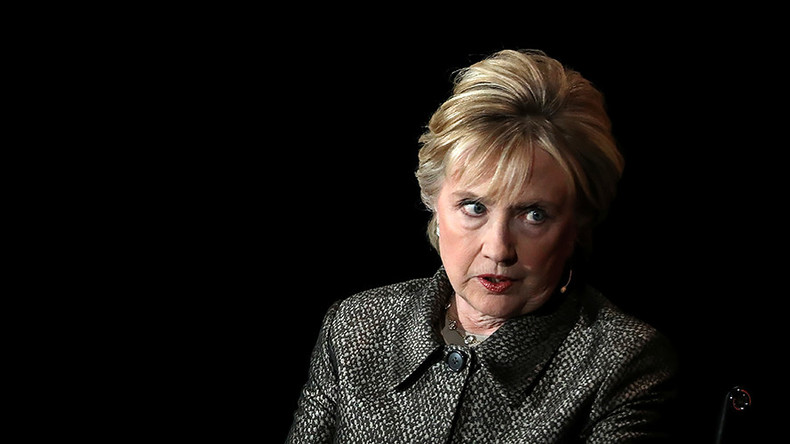 Former Democratic presidential candidate Hillary Clinton has opened up about the mistake she feels had the greatest impact on her 2016 election campaign and why she insists she isn't finished with politics.
In her first television interview to promote her new book Clinton told interviewer Jane Pauley of CBS that using personal email while she was Secretary of State was the thing that had the most detrimental effect on her election bid.
After it was revealed in March 2015 that Clinton used a private email server to send and receive classified emails, the State Department, followed by the FBI in July, launched a probe into the emails. Clinton subsequently turned over some 30,000 messages to the State Department which released her emails in batches.
After a year-long investigation, then FBI director James Comey announced in July that although Clinton and her team were "extremely careless" in handling the messages, 100 of which were classified at the time and eight ranked Top Secret, the agency would not press charges. The investigation, however, was reopened late October after thousands of emails related to the Clinton probe were discovered during a separate investigation into her former aid's estranged husband. Comey said though that the investigation did not warrant any charges. But the damage was done.
"I think the most important of the mistakes I made was using personal email," Clinton told Pauley.
"I've said it before, I'll say it again, that was my responsibility. It was presented in such a negative way, and I never could get out from under it. And it never stopped."
'I had not drafted concession speech'
Clinton also told Pauley about election night and what she did when it became apparent she wasn't going to win.
"I just went into the bedroom, laid down on the bed, i just thought 'Okay. I just have to wait this out.' But then, midnight, I decided, well, 'you know it looks like it's not going to work.'"
Clinton then called Trump to congratulate him on being elected and followed that up with a call to President Obama. She said she felt the need to make that call because she felt that she had "let everyone down."
The next morning brought the task of facing the nation in defeat, something Hillary had not prepared for.
"I had not drafted a concession speech," she admitted. "I had been working on a victory speech."
'Basket of deplorables'
Hillary also offered an explanation of the infamous "basket of deplorables" label she put on Trump supporters.
"Well, I thought Trump was behaving in a deplorable manner," she explained.
"I thought a lot of his appeals to voters was deplorable. I thought his behaviour, as we saw on the Access Hollywood tape, was deplorable. And there were a large number of people who didn't care. It did not matter to them. And he turned out to be a very effective reality TV star."
When Pauley said that this merely energized some people and offended others who didn't personally feel deplorable at all Clinton adamantly stressed that she didn't buy that narrative.
Clinton faced a massive backlash following her infamous gaffe, with many Trump supporters on Twitter and Facebook adding "deplorable" to their names.
"They are not a basket of anything. They are Americans & they deserve your respect," Trump's running mate and now Vice President Mike Pence said at the time.
'Done with being candidate'
During the interview broadcast on Sunday the 69-year-old drew a line under her future as a candidate but insisted she isn't finished in politics.
"I am done with being a candidate. But I am not done with politics because I literally believe that our country's future is at stake."
She also opened up about the continued hurt she feels following her stunning loss to Donald Trump.
"I am good," Clinton said to Pauley, "but that doesn't mean that I am complacent or resolved about anything what happened. It still is very painful. It hurts a lot."

'Sanders' attacks cause lasting damage'
Having accused Comey for ruining her election campaign with the last-minute investigation relaunch, she also shifted blame for her defeat to Democratic presidential nomination rival, Bernie Sanders.
"His attacks caused lasting damage, making it harder to unify progressives in the general election and paving the way for Trump's 'Crooked Hillary' campaign," the former US Secretary of State said.
READ MORE: DNC chair Schultz resigns following WikiLeaks revelations
Sanders' supporters argued it was bias in favor of Clinton – claims which were seemingly backed up by the revelation of a series of Democratic National Committee (DNC) emails leaked to WikiLeaks which proved the committee plotted against Sanders from early on in the presidential nominee race – that cost him nomination. DNC chairwoman Debbie Wasserman Schultz was forced to to step down following the damning disclosures.