Two charged with abuse of 9yo girl trapped in dog cage (PHOTOS)
Published time: 9 Sep, 2017 15:51
Edited time: 10 Sep, 2017 07:31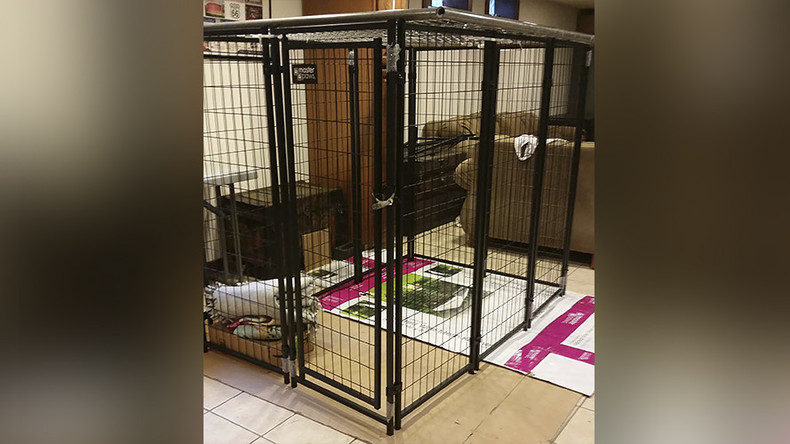 A man and a woman have been charged in a child abuse investigation in Wisconsin, where a nine-year-old girl was discovered locked in a dog cage.
Racine County Sheriff's Office said the incident was one of the most disturbing cases of child abuse it has ever seen.
Investigators were alerted to the suspected abuse by the child's teacher and visited the girl's home in the town of Norway, where they found a large dog cage measuring 4ft 10in high, 8ft long, and 4ft wide.
The child was locked in the enclosure at night and occasionally throughout the day, investigators said.
A photo of the kennel shows cardboard on the floor with some blankets strewn in the corner of the cage.
Police charged the girl's caregiver, 47-year-old Gale Lalonde, and property owner Dale Deavers, 48, from Wind Lake, with causing mental harm to a child, false imprisonment, and several other felony charges.
Lalonde told police she had been locking the child in the cage for approximately two weeks, FOX6 reported.
The victim and another sibling were removed from the residence and placed into protective custody by Racine County Human Services.
"I was sickened at what I witnessed last night. This by far, is one of the most disturbing and heart-wrenching cases of child abuse I've seen, it doesn't get much worse than this," Racine County Sheriff Christopher Schmaling said.
Lalonde and Deavers appeared in court Friday, where a cash bond for both defendants was set at $55,000. They are scheduled to appear in court again for preliminary hearings on Wednesday.