Pro-Clinton 'sanctuary' Verrit draws mockery online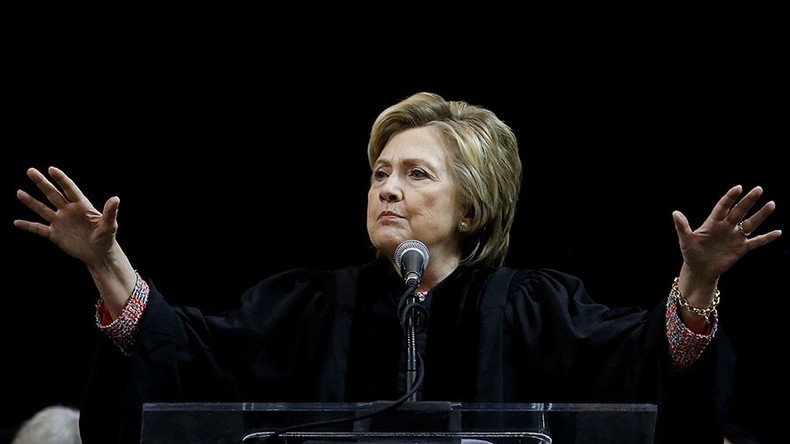 A website designed to act as a "sanctuary" for Americans who wanted Hillary Clinton to win the election – endorsed by Clinton herself – has been ridiculed online, with critics calling it anything from "echo chamber" to completely useless.
The website Verrit describes itself as "media for the 65.8 million," in a reference to the number of votes Clinton received in the 2016 presidential election.
Such a goal was unsurprisingly welcomed by the former Democratic candidate herself, who tweeted that she was "excited" about signing up for it.
However, since Clinton's tweet, the site has come under a DDOS attack and a "Hillary-hating frenzy," according to its founder Peter Daou.
Indeed, many have taken issue with the site and its entire model. The site provides shareable "verrits" – tidbits of text – which are marked with a 7-digit identification code. The idea is that if someone sees a verrit shared on social media, they can go to the website and type in the code. If it comes up, it's real. If it produces no result, it was made by a Verrit "copycat."
The trouble with that approach is that there is plenty of factual information online that didn't come from Verrit, doesn't have a code, and therefore can't be checked by the site. Fake information from other areas of the web also doesn't come with codes.
That fact has led some to mock the entire code system, with one person joking that it's the "political equivalent of the 'certificate of authenticity' from a TV gold coin commercial."
It does appear that Verrit's authentication system is only capable of identifying Verrit copycats – people who manage to create mock verrits – and nothing else.
One such example includes a fake authentication code alongside a fake Clinton quote which reads: "Bernie would have beaten me if I didn't lie, cheat, steal, launder millions, destroy media credibility and gaslight millions with $10m CTR (click-through rate) trolls."
Another Twitter user mocked up a fake verrit about Clinton's (factual) collapse after her September 2016 visit to the 9/11 memorial.
"Most people collapse on moderately sunny days. It's normal," the person wrote, including a phony Verrit authentication code.
Daou has addressed the "thousands of fake verrits" which emerged after Clinton endorsed the site, but said the site was able to "channel anti-Hillary energy into free marketing and promotion."
That statement has prompted some to say that Verrit is little more of a promotional stunt than a media platform.
Some have dubbed it an "echo chamber," a sanctuary where Clinton's fans can live in a bubble where their beliefs will not be challenged.
Meanwhile, others have accused the site of merely being a place to dump links, which then turn into "memes for liberals."
Critics have also taken aim at the site's actual content – or lack thereof – claiming that a search result for terms such as living wage, unions, manufacturing, and income inequality turned up empty.
"Boy, you Centrists are off to a great start!" one critic wrote.
Another Twitter user accused Verrit of being "like Fox News, but without even [a] pretense of honesty."
The conservative news site Breitbart poked fun at the site's name, tying it to the Latin root"verro," which can mean either a male pig (noun), or "to conceal" (verb).
You can share this story on social media: