US would be 'extremely upset' if Assad used chemical weapons - Trump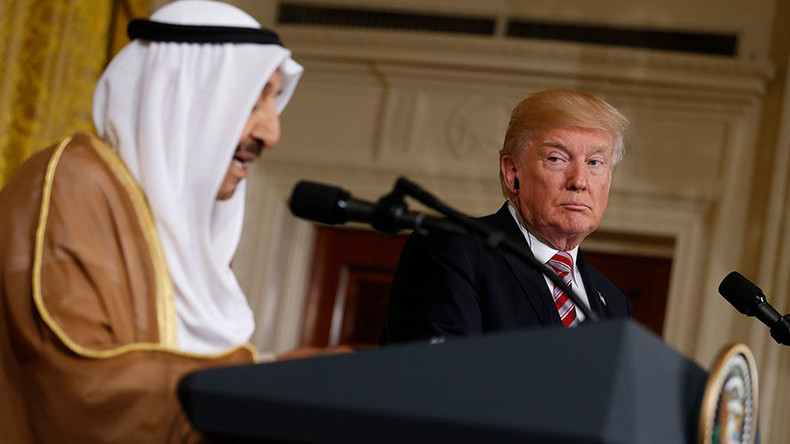 At a meeting with the emir of Kuwait, US President Donald Trump claimed to have "very little to do with Syria", but would be very upset if it turned out the government was using chemical weapons.
"We would be extremely upset if Assad used chemical weapons," said Trump at a joint conference with Sheikh Sabah IV Ahmad Al-Jaber Al-Sabah in Washington DC. However, "we have very little to do with Syria, apart from killing ISIS," he added.
The President made his remarks a day after a report released by the UN Syria Commission which suggests that Syrian government forces were responsible for a chemical attack that took place in April.
"All evidence available leads the Commission to conclude that there are reasonable grounds to believe Syrian forces dropped an aerial bomb dispersing sarin in Khan Shaykhun at around 6:45am on 4 April," the report stated, adding that such attacks constitute war crimes.
However, the Russian and Syrian governments have contested this version of events, arguing that the chemical leak was the result of an airstrike on a militant warehouse where chemical weapons were being produced and stockpiled before being shipped to Iraq.
The warehouse was used to both produce and store shells containing toxic gas, Russian Defense Ministry spokesman Major-General Igor Konashenkov said at the time.
Trump offers to mediate in Qatar crisis
Also during the conference, Trump made remarks about the ongoing diplomatic standoff between Saudi Arabia and its allies and Qatar, which both Trump and the other Gulf States have accused of funding terrorism.
"There's been massive funding of terrorism by certain countries," Trump said, in response to a question about Qatar.
"If they don't stop funding of terrorism, I don't want them to come together [with the other Arab states]. But I think they will."
Trump added that if he was asked to do so, he would gladly act as a mediator in the diplomatic crisis.
"While I do appreciate and respect the mediation, I would be willing to be a mediator," he said.
"I was telling the emir before that if I can help between UAE and Saudi Arabia… if I can help mediate between Qatar and, in particular, the UAE and Saudi Arabia, I would be willing to do so."
The United States has interests with all the parties in the Gulf diplomatic dispute. Despite Trump accusing Qatar of funding terrorism, the country also hosts the largest US military base in the Middle East. The Al Udeid Air Base, some 20 miles southwest of the capital, Doha, is home to around 11,000 US military personnel and boasts a 12,500-foot runway.
You can share this story on social media: