US Army prepares forces in South Korea for WMD attack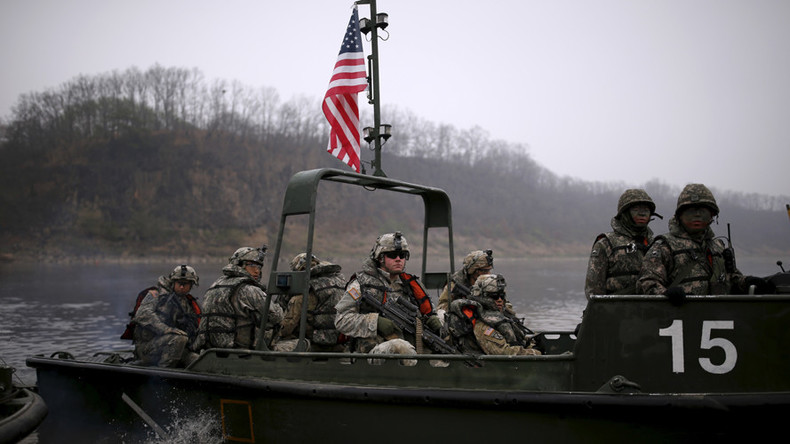 The US Army wants its forces deployed in South Korea to train for a potential attack with the use of hazardous materials, which could be radioactive or chemical.
The Army's 718th Explosive Ordnance Disposal Company (EOD) in South Korea should be taught to be able to identify hazardous materials, "know how to perform basic control, containment and/or confinement operations," as well as to be able implement decontamination procedures, according to the contract proposal which the Army posted on the Federal Business Opportunities website.
It is expected to be a two-week training course, taught on-site at the US Camp Humphreys base in South Korea.
The US has around 25,000 troops deployed in the country, at some 80 sites across the country.
In late August, the Pentagon posted another proposal for contractors to build walls around four US bases in South Korea to protect them from a potential attack.
This comes at a time of heightened tensions between the US and North Korea, following the latter's recent missile tests, which Pyongyang called "gift packages" to the United States.
Following what North Korea claimed was a hydrogen bomb test on September 3, US Defense Secretary Jim Mattis warned of "a massive military response" to any threat from North Korea against the United States or its allies.
This week, the US began the deployment of four new Terminal High Altitude Area Defense (THAAD) rocket launchers in Seongju County, some 300km south of Seoul, in addition to two already in operation there, the South Korean Defense Ministry said, citing an urgent need to mobilize the launchers amid growing threats from North Korea.
Dozens of protesters injured in clashes with police on Wednesday as hundreds took to the streets to oppose the installation of the THAAD system, fearing the deployment will further escalate the crisis on the peninsula and make their town a primary target for the North's potential attacks.
In contrast to US preparations for a possible war with North Korea, Russian President Vladimir Putin said he is "sure that a large-scale conflict, especially with the use of weapons of mass destruction, will not happen. All opposing sides have enough common sense" to avoid it, he said, speaking alongside South Korean President Moon Jae-in and Japanese Prime Minister Shinzo Abe at the Eastern Economic Forum in the far eastern Russian city of Vladivostok on Thursday.
"We can solve this problem through diplomatic means."
"It's counterproductive to inflate this military hysteria. This leads nowhere," Putin added. "It's a provocation from North Korea, it's obvious," he said of North Korea's latest nuclear test. "They count on a specific reaction from the partners and they get it. Why are you playing along with it? Have ever you thought about it?"
On Thursday and Friday, the US and South Korea are set to conduct a joint anti-submarine drill, Yonhap news agency reported.
Over the summer, the two allies carried out massive military exercises in the region, which the North called a threat to its security.
In August, Washington rejected a double-freeze plan proposed by Russia and China, following the North's earlier missile tests. The plan would see Pyongyang suspend its nuclear and missile tests in exchange for a halt in joint US-South Korean military drills.