White Christians a minority in US, study finds
Published time: 7 Sep, 2017 13:13
Edited time: 8 Sep, 2017 14:50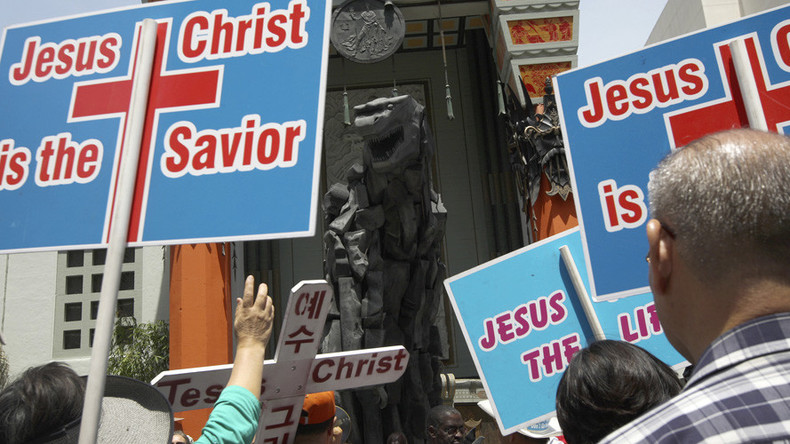 In news sure to strike fear into the hearts of white supremacists, less than half the population in the US are white Christians – and evangelical Protestants are on the decline. However, 69 percent of the population is Christian, and 72 percent are white.
In 1976, eight in 10 Americans were white Christians, while today 43 percent are both white and Christian.
More than 101, 000 Americans were polled by the Public Religion Research Institute, a research organization which focuses on religious tradition and values, for its 'America's Changing Religious Identity,' report.
Its findings are based on figures from its American Values Atlas survey, based on interviews with Americans across the country in 2016.
FINDINGS
The study shows that evangelical Protestants have decreased from 23 percent in 2006 to 17 percent in 2016.
"This report provides solid evidence of a new, second wave of white Christian decline that is occurring among white evangelical Protestants just over the last decade in the U.S.," Robert P. Jones, PRRI CEO and author of The End of White Christian America said.
"Prior to 2008, white evangelical Protestants seemed to be exempt from the waves of demographic change and disaffiliation that were eroding the membership bases of white mainline Protestants and white Catholics. We now see that these waves simply crested later for white evangelical Protestants."
Close to two-thirds of over 65s surveyed are white Christians, while about a quarter of millennials are. The data reveals Christians in the US have an older median age, with 60 percent over 50, suggesting its numbers may continue to decline.

Younger Americans are more likely to identify as non-religious, with a third of 18-29-year-olds not belonging to a religion. Almost a quarter of all Americans, meanwhile, don't identify with any religion.
RELIGION
The study shows the US still has a majority Christian population of 69 percent. Out of those who identify as having a religion, about 44 percent of those are white.
The report found Muslims, Buddhists and Hindus make up three percent of those surveyed, each having one percent. Orthodox Christians make up one percent, and are 81 percent white. Jews account for two percent of those surveyed.
Then there's the 24 percent who don't affiliate with a religion, plus the 3 percent that said they didn't know or refused to answer.
RACE
The US has long had both a Christian and a white majority. According to 2010 census data (the last census conducted in the US), 72 percent of Americans are white, 12 percent are black, four percent are Asian, six are 'some other race,' and just over one percent are Native American, Hawaiian and Pacific Islanders. Thirteen percent are Hispanic and Latino, which is deemed an ethnicity rather than a race.
POLITICS
The US's increasingly diverse population hasn't translated to one of its major political parties, with almost three quarters of Republicans identifying as white Christians, and a third of those are evangelical.
As for Democrats, 29 percent are white Christians.