13 toxic waste sites pose public threat due to Harvey floodwater, EPA finds
Published time: 4 Sep, 2017 10:40
Edited time: 5 Sep, 2017 12:07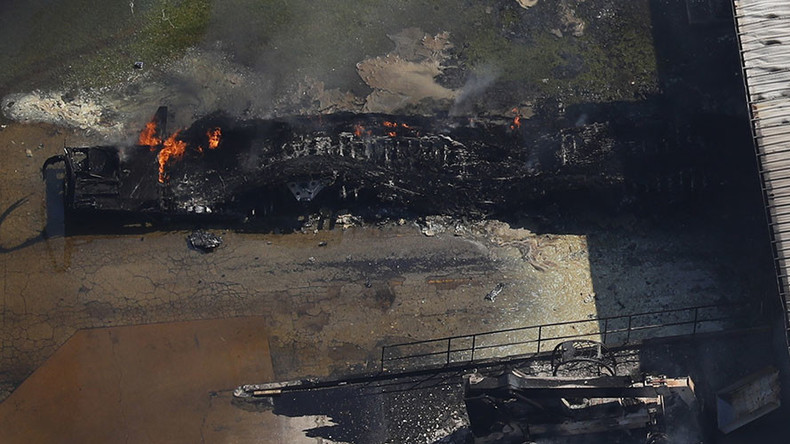 At least 13 toxic waste sites, all contaminated with petrochemicals, acid compounds, solvents and pesticides, experienced flooding as a result of Hurricane Harvey, according to the EPA (Environmental Protection Agency).
The number of affected sites was tallied by the EPA, which assessed 41 superfund sites using aerial images.
Last week three trailers, each of which houses a half-ton of highly flammable materials, exploded at the flooded Arkema plant in Texas due to the of degrading chemicals in the wake of Hurricane Harvey.
Authorities say it will take 10 to 15 days, by which time floodwaters are expected to recede, to determine the full impact of the damaged sites.
READ MORE: Full threat posed by Arkema plant disaster still unknown
According to a 2014 worst-case-scenario plan – submitted to the EPA in the event of explosion at Arkema – up to 1.1 million people over 23 sq miles (59.5 sq km) could be affected, AP reported.
The six remaining trailers at Arkema were purposely ignited on Sunday so crews could stop waiting for the inevitable and start working on assessing the damage.
"The measure taken did not pose any additional risk to the community," according to the fire marshal office, however a 1.5 mile evacuation radius around the site remains in place.
A Superfund site is land that is contaminated by hazardous waste and identified by the EPA as a candidate for cleanup because of the risk it poses to human health or the environment.