Harvey clean-up could cost $120bn - Texas governor (PHOTOS)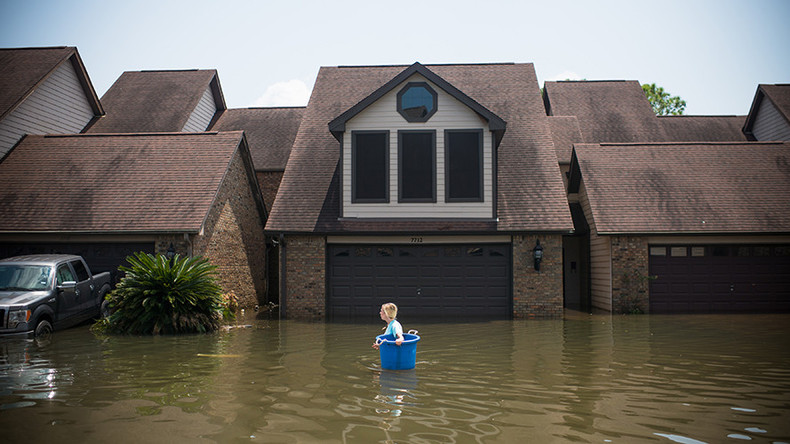 As Texans attempt to rebuild their lives after Hurricane Harvey, Governor Greg Abbott has warned that it could take more than $120 billion of federal funds to repair the damage.
Initial disaster relief amounting to $7.85 billion as already been pitched to Congress by the Trump administration.
However, Abbott believes the scale of the devastation is similar to Hurricane Katrina, which caused in excess of $100 billion of damage when it hit New Orleans in 2005.
READ MORE: Hurricane Harvey: Tales of heartache & heroism in Texas
"In the overall equation the cost of, if I understand it correctly, to rebuild [after] Katrina was over $120 billion and when you consider the magnitude of the size of this storm it is far larger than Katrina," Abbott told CNN.
"When you look at the number of homes that have been mowed down and destroyed and damaged, this is going to be a huge catastrophe that people need to come to grips with. It's going to take years for us to be able to overcome this challenge."
Abbott's storm damage bill estimate comes as the Federal Emergency Management Agency (FEMA) administrator William Long said states cannot rely entirely on the crisis fund.
Speaking to Face the Nation on CBS, Long described the destruction incurred by Hurricane Harvey as a "wakeup call" for local governments, adding that it was time for states to design their own "rainy day funds" and public assistance programs.

"We need elected officials at all levels to sit down and hit the reset button and make sure they have everything they need to increase levels of self-sufficiency," Long said.
READ MORE: Hurricane Harvey could be one of the costliest natural disasters in US history
"This is a partnership, but this event is one where we are all going to have to sit down and hit the reset button and figure out how we collectively improve."
Nearly three days since the category 4 storm passed, high flood waters are still hampering the clean-up operation around areas like Houston and Beaumont.
One resident of Lockhart, Texas said it was "breathtaking" witnessing the flood relief response in her neighborhood.
"The human spirit is just breathtaking. Everyone came out to lend a hand to complete strangers and we worked side by side like family. God still sends blessing in the middle of transformation," she said.
You can share this story on social media: