Motorized nanobots could fight deadly cancers inside the body – study (VIDEO)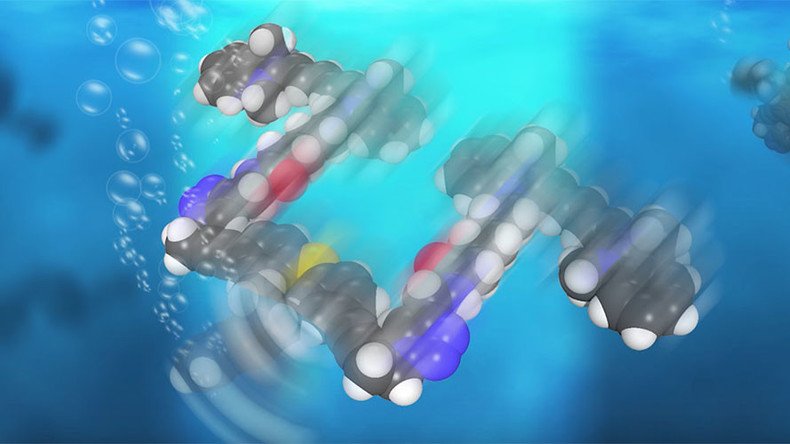 Nanotechnology could soon be used to directly combat disease within the human body – a breakthrough that promises revolutionary new treatments for the most deadly forms of cancer.
The study, published in the journal Nature, outlines how an international team of researchers from Rice, Durham, and North Carolina State universities worked together to test single-molecule nanomachines, a collection of rotor-propelled microbots capable of easily tunneling through the membranes of targeted cells to administer drugs.
In one test conducted at Durham University in the UK, the nanomachines took as little as three minutes to tunnel through the wall of a prostate cancer cell. The machine killed the cancer cell instantly.
Durham's Dr. Robert Pal, a leader of the study and Royal Society University Research Fellow, believes the machines could be used to treat a range of cancers, including those most resistant to treatment.
He said: "We are moving towards realizing our ambition to be able to use light-activated nanomachines to target cancer cells such as those in breast tumors and skin melanomas, including those that are resistant to existing chemotherapy."
"Once developed, this approach could provide a potential step change in noninvasive cancer treatment and greatly improve survival rates and patient welfare globally," he added.

The nanomachines must spin at a rate of three million times per second in order to propel themselves through the body and overcome Brownian motion, the erratic movement of microscopic particles in the bloodstream.
Rice University chemist James Tour put into perspective the the size of the technology as well as the advanced level of technology contained within the microscopic machines.
"These nanomachines are so small that we could park 50,000 of them across the diameter of a human hair, yet they have the targeting and actuating components combined in that diminutive package to make molecular machines a reality for treating disease," Tour said.
READ MORE: Surge in Australian breast cancer cases linked to cheap breast implants
The research is continuing, with teams carrying out experiments on microorganisms and fish. If successful, the researchers hope to move on to testing on rodents.
"The hope is to move this swiftly to rodents to test the efficacy of nanomachines for a wide range of medicinal therapies," Tour added.
You can share this story on social media: