'That's a f**kin hero!': Ex-SWAT team deputy fends off Houston looters with shotgun (VIDEO)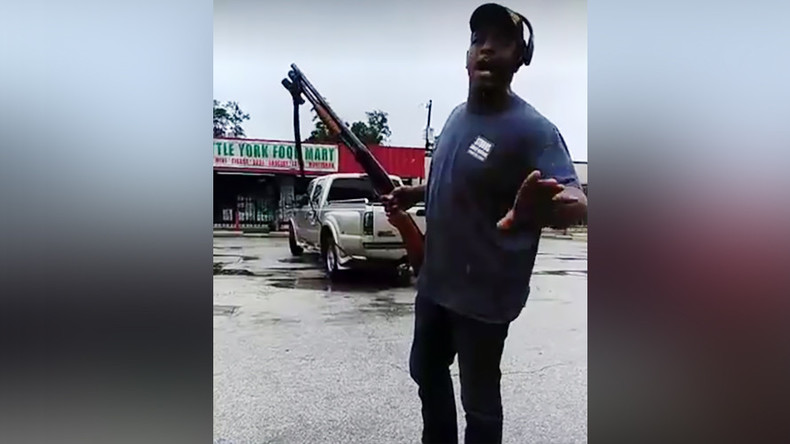 In the midst of a once in a lifetime flooding event in Texas, citizens are fleeing the rising flood waters, leaving their homes and livelihoods behind. A mandatory curfew in Houston has been imposed in an effort to prevent potential looting.
Video has gone viral of one man taking the law into his own hands to defend his neighbors from looters.
"We need more real men out here to step up and protect where you live," the man, who claims to be an ex-SWAT team deputy says in the video, which has been viewed over two million times since it was uploaded on August 29.
"If you go back in that store, I'm telling you one time, I'm not scared to shoot you. I'm an ex-f**king SWAT deputy. I will cut your ass in half. Don't go in that store no goddamn more!" says the shotgun-wielding ex-deputy, identified as a local man by the name of Nash by uploader Tay Mayberry.
"He's well known around the neighborhood. He was just trying to protect the store from looters," Mayberry told RT.
Several looters can be seen fleeing from the man, with goods in hand. While the situation is undoubtedly desperate, Nash adopts a zero-tolerance, constitutionally-protected stance.
"I ain't got a problem with shooting; I still got a license. Try me if you want! I'm a former law enforcement officer. I still support law enforcement; those that do right."
"HPD (Houston Police Department) officers right now in the back of city trucks, all armed with AR-15s gotta go back to the neighborhood that's still underwater, flooded, and try and protect these people. It don't make no sense that these guys out here too lazy to get a damn job; the energy they using to rob they didn't even try to use that energy to rescue people," Nash declares.
"If you're looting, it's a violation of federal law, it's a violation of Texas law at the time of a catastrophe," Nash says defiantly.
"That's a f**kin hero!" one bystander exclaims. "That's what I'm talking about!"
Mayberry and her passengers then talk briefly, providing a damning assessment of the situation on the ground in Houston.
"Did anyone call 911 for you?" one woman asks.
"911 ain't gonna come, momma. 911 is outta there… It's martial law now... there is no law," Mayberry replies.
Mayberry then faces the camera to issue a chilling message:
"So this is what the hell the news ain't showing ya'll. This is what we're going through on top of this storm. I was scared to call a rescue boat because the people on the rescue boats are rescuing people and then they f**king robbing us ya'll."