US targets ISIS convoy that agreed to leave Lebanon under Hezbollah deal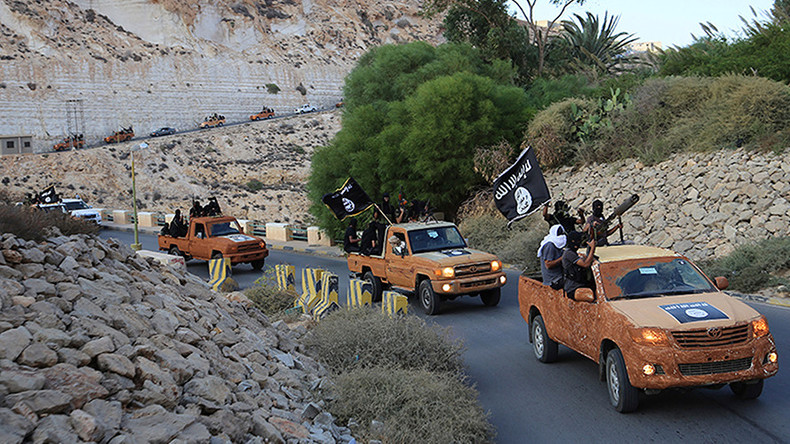 The US-led coalition said it has bombed ISIS vehicles on their way to join a convoy of other ISIS members traveling from the Syria-Lebanon border towards Iraq under a deal brokered by Hezbollah, adding that it will not allow the terrorists to escape.
Coalition aircraft have struck "vehicles containing Islamic State fighters" that were moving towards the convoy's location, Operation Inherent Resolve spokesman Colonel Ryan Dillon said in a statement on Wednesday.
"We are not party to any agreements that were made by the Lebanese Hezbollah and ISIS or the (Syrian) regime," Dillon told AP.
Earlier, the coalition bombed a bridge and the road in the convoy's path to prevent it from reaching the area held by IS (also known as ISIS/ISIL) in eastern Syria.
Any strikes "will be in accordance with the law of armed conflict," Dillon said.
The government in Damascus has repeatedly called coalition operations in Syria, carried out without its consent, a violation of Syrian sovereignty.
Hezbollah – a Shia Muslim political and military organization in Lebanon which the US has designated a terrorist organization – had brokered an agreement with IS militants, giving them a safe passage from an enclave on the Syrian border with Lebanon to IS-held territory near the border between Syria and Iraq.
The convoy carries 308 militants and 331 civilians, according to Hezbollah.
"Irreconcilable ISIS terrorists should be killed on the battlefield, not bused across Syria to the Iraqi border without Iraq's consent," tweeted US Special Envoy for Global Coalition to Defeat ISIS, Brett McGurk, who also spoke for the coalition's efforts under the Obama administration.
"Our coalition will help ensure that these terrorists can never enter Iraq or escape from what remains of their dwindling "caliphate," McGurk added.
Several critics have responded to the official's tweets, noting that US-backed Syrian fighters gave IS terrorists a safe passage out of the city of Manbij last year.
"The agreement to let the Islamic State militants escape likely saved hundreds of civilians held by the fanatical fighters, even though it allowed some Islamic State militants to escape," USA Today cited a senior US defense official last August.
The Trump administration, however, said it changed its tactics in the fight against the terrorist group.
"[Trump] directed a tactical shift from shoving ISIS out of safe locations in an attrition fight to surrounding the enemy in their strongholds so we can annihilate ISIS," Defense Secretary James Mattis said in May.
He explained that by "taking the time up front to surround these locations, instead of simply shoving them from one to another" coalition forces are able to "carry out the annihilation campaign so we don't simply transplant this problem from one location to another."