Beware of fire: The deaths behind Burning Man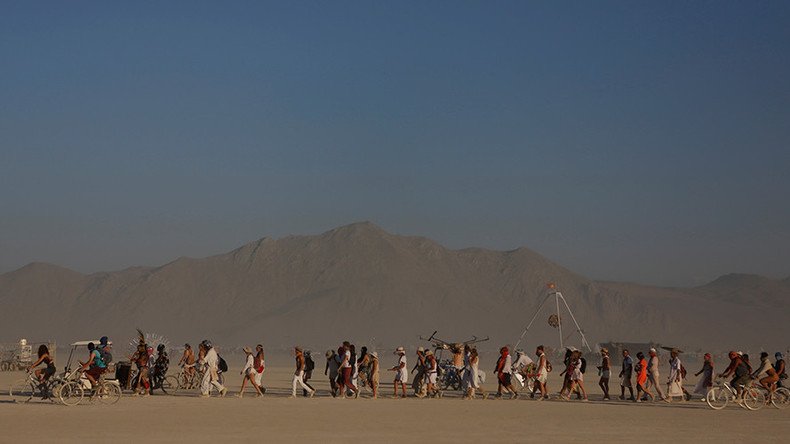 With a large crowd packed into a makeshift camp in a desert, it's only natural that accidents will happen at Burning Man. As the festival kicks off in Nevada we take a look at the dark side of the gathering.
Michael Fury
In 1996 Burning Man was a very different gathering than it is now, with a mere 8,000 participants gathering in the Nevada desert and few regulations in place around structures and vehicles.
A deadly game of chicken between motorcyclist Michael Fury and a van left Fury dead, according to reports from that year. Although his death and those of two campers whose tent was run over by a truck the same year happened outside the camp's grounds, it led to calls for increased restrictions on vehicles at the event.
This year participants will see heavy restrictions on vehicles at the gathering, with the organizers working closely with authorities on increasing safety, even setting up their own DMV (Department of Mutant Vehicles).
Katherine Lampman
Despite increased restriction, accidents still happen. In 2003 participant Katherine Lampman jumped from a moving car in an attempt to get a better look at the Temple of Honor, a construction that is built for each year's gathering before being burnt at its end.
Lampman fell backwards upon landing, according to festival goers, right in the path of the vehicle's wheels. "A helicopter was on its way. As I was writing out my statement, a deputy told me that the helicopter left without her and that she didn't make it," the car's driver Randy Emata said.
Barry Jacobs
High above the ground Burning Man also has its perils, with Black Rock City's airport handling around 100 take offs a day. Also in 2003 pilot Barry Jacobs died after an aircraft he was flying lost engine power upon takeoff and crashed. All four people on board were seriously injured, with Jacobs later dying of his injuries.
The remoteness of Burning Man is believed to have played a role in his death, with emergency services taking over an hour to reach Jacobs.
Jermaine Barley
At Burning Man there are things on display unlike anywhere else, making it one of the most unique events in the world. Unfortunately, expecting the unexpected can have a darker side, with one man who hung himself being mistaken for an art installation and left in situ for several days.
Six time attendee Jermaine Barley hung himself at the gathering in 2007. The 22 year old from Oklahoma had been distraught in the build-up to the festival, according to reports. His death wasn't immediately reported, with one witness saying "It looked like someone was playing a joke with a dummy."
Alicia Cipicchio
The lure of the makeshift vehicles on display at Burning Man can prove very difficult to resist, but climbing on board one of them may not always be worth the risk. In 2014, 29-year-old Wyoming woman Alicia Cipicchio attempted to hitch a ride on The Shagadelica – an art car covered completely in fur.
Attempting to jump on the vehicle as it moved, Cipicchio misjudged her effort, and was instead hit by The Shagadelica and killed.
This year's festival began on Sunday and will run until September 4. So far no deaths have been reported this year.
You can share this story on social media: