CNN blasted by Harvey flood survivor for pushing 'microphone in her face'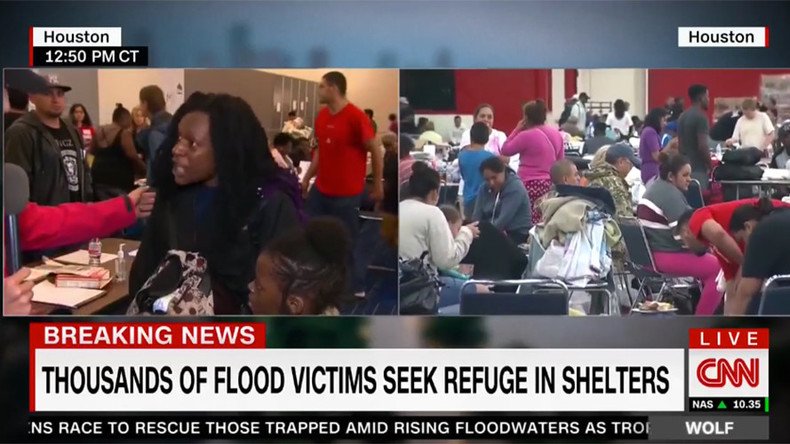 A Hurricane Harvey survivor lambasted CNN reporter Rosa Flores as she interviewed her just after she arrived at a Houston shelter to escape the floods. The mother branded the network insensitive for putting people on live TV "during their worst times."
The mother, named Danielle, agreed to an interview with CNN correspondent Flores and the pair stood side-by-side at the Houston shelter.
When the interview went live on-air, however, Danielle gave the correspondent a piece of her mind, in response to questioning about how she was rescued.
Woman cusses out CNN reporter in Texas:"Y'all trying to interview people during their worst times. Like that's not the smartest thing to do" pic.twitter.com/MbZ3vMLtWs

— JM Rieger (@RiegerReport) August 29, 2017
The outburst began when Flores asked Danielle, flanked by her daughter, to talk about her experience as a mother trying to protect her kids from the storm.
"We walked through four feet of water to go get them food on the first day," the distraught mother said. "Yeah, that's a lot of sh*t."
"But y'all sit here, trying to interview people during their worst times. Like, that's not the smartest thing to do," she added. "Like, people are really breaking down and y'all are sitting here with cameras and microphones trying to ask us what the f**k is wrong with us."
Flores apologized, and the woman continued: "Are you really trying to understand with the microphone still in my face? With me shivering cold, with my kids wet, and you're still putting the microphone in my face?"
At that stage, CNN cut back to presenter Jim Acosta in the studio.
Watch this clip to end.Shames @CNN to get the mike out of her face, notes her kids are shivering & in need of things other than an interview https://t.co/jGbvfJGecx

— Kellyanne Conway (@KellyannePolls) August 29, 2017
God Bless that poor woman & fam glad she has the courage to speak up,she is not on display!

— Judi Salimbene (@JudiJudisal) August 29, 2017
That woman was emotional & in shock her child are trembeling she could have waited
Reporters on disasters should show some empathy

— Ms. K (@mshotspot70_kc) August 29, 2017
Danielle's comments were met with sympathy online, as many commended her for calling out the media. Many on the right jumped at the chance to attack CNN, while some journalists came to Flores' defense.
Hurricane Harvey, now a tropical storm, has been pounding Houston since Friday. Fifteen people have died as a result of the storm and its floods.
You can share this story on social media: