Evacuations in Texas as Category 4 Hurricane Harvey nears landfall (VIDEOS)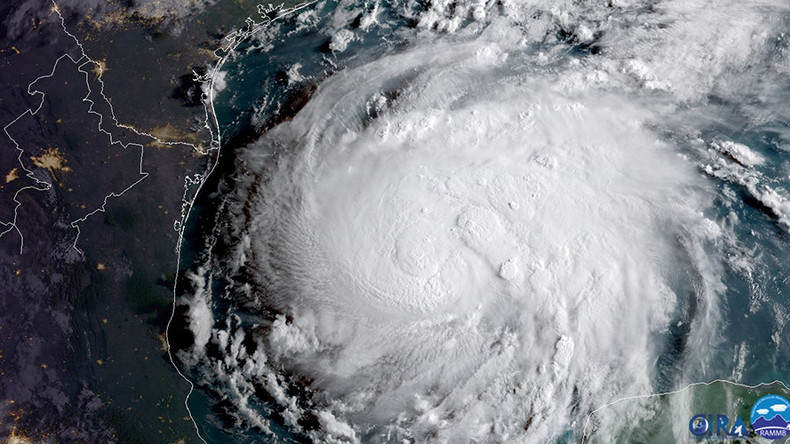 Texans are evacuating or holing up as life-threatening conditions are expected when Hurricane Harvey, the first US Category 3 hurricane to make landfall in nearly a dozen years, could bring flooding and a storm surge that could reach heights of six to 12 feet.
Harvey, which officially hit Category 3 status Friday afternoon before becoming a Category 4 by Friday evening, is expected to make landfall on Texas' coast Friday night.
Texas and Louisiana both face the prospects of Biblical-level floods, as Harvey will slowly roam the area and is not expected to dissipate until at least Monday.
On Thursday afternoon, Harvey's winds strengthened to 80 mph (128 km/h). Rain is expected from 10 to 20 inches (25.4 to 50.8 cm), while some areas may see 30 inches (76 cm). Flash floods and 115 mph winds are also possible.
"Since Harvey is forecast to stall, we expect 10-20 inches of rain over a large part of southern and eastern Texas and southwestern Louisiana from Friday into early next week," AccuWeather hurricane expert Dan Kottlowski said.
Texas Governor Greg Abbott has ordered in 700 troops from the Texas Army, Air National Guards, Texas State Guard and the Texas Military Department, to work alongside emergency responders and other volunteers and civilians in Victoria and College Station, KPRC reported Thursday. More personnel are reportedly on standby.
Heavy rain and strong gusts of wind showcased on Twitter portend the extreme weather to come.
Texans waited in long lines as they stocked up on water and supplies, including gasoline to fuel an evacuation. Others were bused to public shelters. Store shelves were emptied of bread and other items.
On Thursday, President Donald Trump tweeted links to government agencies where people can seek information on protecting themselves against the incoming hurricane. Some on Twitter complained that they were blocked by the president's account and were unable to see it.
Houston-based KRIV meteorologist Jim Siebert is recommending hospitals, schools and businesses close by noon on Friday to avoid extreme weather risks.
Some communities and counties in Texas that have started to evacuate are Port Aransas, Aransas Pass, Ingleside, Southern parts of Matagorda County, San Patricio County, Brazoria County, Refugio County, Jackson County and Nueces County.
Voluntary evacuations are also underway in Victoria County and Bolivar Peninsula. The community in Palacios, in Matagorda County, is required to evacuate by 8am on Friday, the San Antonio Express-News reported.
The Office of Marine and Aviation Operations, part of the National Oceanic and Atmospheric Administration, is conducting research into Harvey by literally flying into the storm.
In 2005, Hurricane Katrina devastated the Gulf Coast from Florida to Texas, with most of the damage suffered where storm surges broke the levees in Louisiana. Katrina produced the largest exodus in US history, displacing over 1 million people. Houston, Texas absorbed 35,000 of those people.
Although Texas was not as badly affected by Katrina, other hurricanes and even non-hurricane strength storms have left their impact in recent years.
On June 5, 2001, Tropical Storm Allison caused flash flooding, and rainfall leveled out at 37 inches (940 mm) at the Port of Houston. Allison caused $4.8 billion in damage and killed 23 people.
On September 24, 2005, Hurricane Rita made landfall as a Category 3 hurricane on the border of Texas and Louisiana. This led to the largest evacuation in US history, with more than 3 million people evacuated. One million people suffered power outages. Fifty-nine people died, most from accidents during evacuation.
Tropical Storm Erin made landfall in Texas on August 16, 2007. It was categorized as a minimal tropical storm, but caused nine deaths and resulted in damages to the tune of $49 million.
In September 2008, Hurricane Ike made landfall in Galveston, as a large Category 2 hurricane. Its storm surge climbed as high as 20 feet (6.1m). Many houses were destroyed, and 2.6 million people lost power. One of the deadliest and most destructive hurricanes to ever hit Texas, it killed 84 people and destroyed $19.3 billion worth of property.
On September 7, 2010, Tropical Storm Hermine made landfall in northeastern Mexico and was labeled a strong tropical storm. Hermine led to power outages and even damaged crops. Five people were killed, and $240 million in damages were reported in the wake of the storm.