Disgruntled restaurant employee kills 1, shot by police, in Charleston SC
Published time: 24 Aug, 2017 17:34
Edited time: 25 Aug, 2017 08:58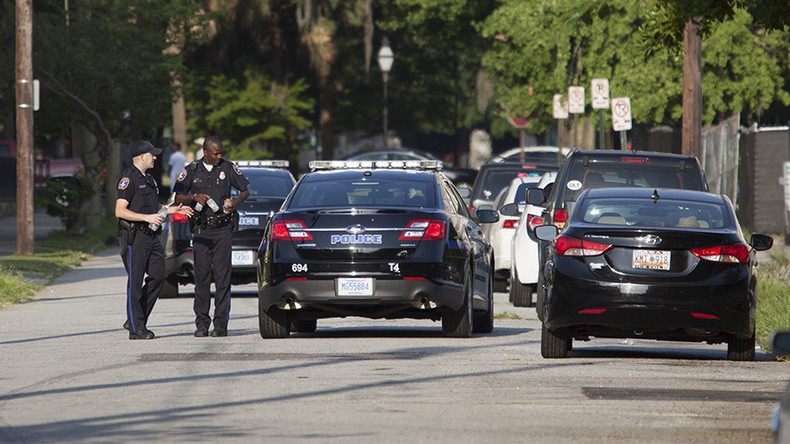 One person has been killed during a hostage situation at a downtown restaurant in Charleston, South Carolina. The attacker, said to be a disgruntled employee, was shot by police and is in critical condition.
According to local reports the shooter was a dish washer at Virginia's on King, a restaurant on King Street in Charleston, and the deceased victim was a chef at the establishment.
Charleston Police initially told residents to avoid the King Street area via Twitter as they blocked roads to motorists and pedestrians due to an "active shooter" at downtown restaurant.
King btwn Calhoun & Morris blocked to motorist & pedestrian traffic active shooter in 400 block of King people to avoid the area.

— Charleston P.D. (@CharlestonPD) August 24, 2017
Emergency responders including a SWAT and bomb disposal team swarmed the restaurant, Virginia's on King, where the shooter reportedly entered through the back kitchen, locked the front door, and told patrons he was the "new king of Charleston".
They think he has a hostage inside but not certain. He locked front door and told patrons he was the "new king of Charleston." #chsnews

— Glenn Smith (@glennsmith5) August 24, 2017
Patrons were told to get out by the assailant, however one restaurant worker was held hostage inside.
Throughout the three-hour ordeal Charleston PD confirmed the incident as an active hostage situation by a disgruntled employee and "not an act of terrorism".
MORE: Several hostages are still holed up inside of a restaurant where a gunman shot someone, says Charleston Police Dept

— Elizabeth Landers (@ElizLanders) August 24, 2017
Police confirmed one shooting victim, who officers were able to recover and transport to hospital but who later died.
As the incident came to a close, paramedics were seen wheeling a person, now known to be the injured shooter, out of the restaurant on a stretcher.
Police spokesman Charles Francis told residents to avoid the area while negotiators tried to resolve the situation and free the small number of hostages.
Local business were evacuated and the nearby Charleston School of Law campus was put on lockdown while responders worked on the scene.
The city has asked that we lockdown campus until the shooter situation is resolved. 1:30 classes are cancelled.

— Charleston Law (@Charleston_Law) August 24, 2017
Authorities were called to a possible shooting on King Street at 12:17pm, local time, Thursday. The street consists of a busy row of restaurants and shops, and is frequently visited by tourists and locals alike.