Ouch! Phoenix rally protester gets pepper bullet to the groin (VIDEO)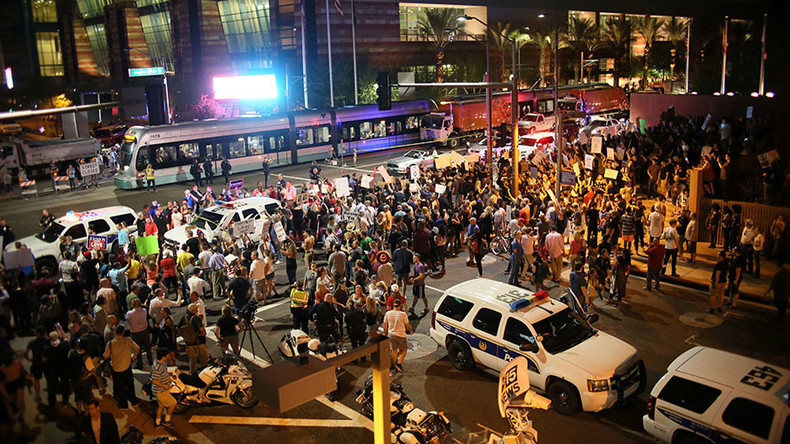 One protester in Phoenix, Arizona on Tuesday inspired a collective wince on social media when video emerged of him getting shot in the groin with a pepper bullet fired by police.
Protesters and police clashed outside the Phoenix Convention Center after President Donald Trump's rally ended Tuesday evening. Four people were arrested and two officers were treated for heat exhaustion, KPHO-TV reported. Police deployed pepper balls and tear gas at the anti-Trump protesters.
Footage from the clashes broadcast on KPHO-TV captured the painful moment a protester was knocked to the ground after being hit in the crotch.
The protester, wearing a gas mask and backpack, is seen kicking a tear gas canister toward the police. Moments later, the man gets hit in the crotch by what is being reported as being a pepper or rubber bullet. The impact sends him to the ground, where he writhes in pain.
Pepper bullets or pepper balls disperse a chemical irritant and are fired from a special gun.
The man attempts to stand, but can't, and is helped to his feet by a man wearing a Colin Kaepernick jersey.
Sorry folks, but watching the Protester kick the tear gas can back at Phoenix Police, only to get drilled by a rubber bullet.. Made my Night pic.twitter.com/zUStGA8iYH

— Matt Couch (@RealMattCouch) August 23, 2017
Kaepernick, a former NFL player for the San Francisco 49ers, invited controversy when he refused to stand for the national anthem in solidarity with the "Black Lives Matter" movement. This has led many to report that the man who was hit in the groin was an anti-Trump protester. RT was unable to verify this, or discover his identity.