Ohio police arrest man with pipe bomb hours before vigil honoring Charlottesville victims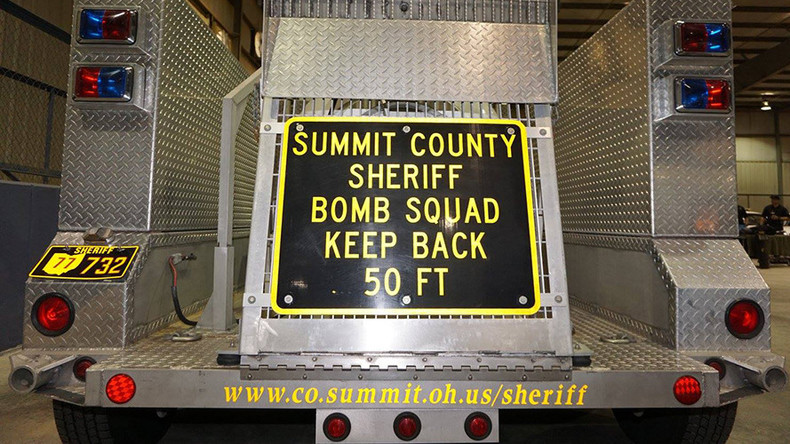 Hours before hundreds of people gathered in the city of Akron, Ohio, to pay their respects to the victims of the deadly attack in Charlottesville, Virginia, police arrested a man with multiple explosive devices in his car.
Police arrested Elijah Blankenship, 26, just before 4:00pm Wednesday after finding a pipe bomb and another unidentified explosive in his car. The report said the car was parked about 4 miles from downtown Akron, where 500 people would later gather to honor the victims of a deadly attack at the "Unite the Right" rally in Charlottesville last week, according to court records obtained by the Cleveland Plain Dealer.
Police responded to the scene after a K9 unit alerted on Blankenship's vehicle, prompting the Summit County Bomb Squad to sweep of the area, according to WEWS. Police allowed the vigil to continue as planned after they found nothing else of concern during the sweep.
Blankenship reportedly told officers that the explosives, which police reports said appeared to be homemade, were fireworks. He also told police that he was carrying a knife, which investigators later identified as stolen.
The Cuyahoga County Sheriff's Office bomb squad was called to the scene, where they took possession of the pipe bomb and other explosives. Police also seized black powder and two small bags of drugs in the car, according to the Cleveland Plain Dealer.
Blankenship is facing felony charges that include possession of a dangerous ordnance and manufacture of a dangerous ordnance, as well as a misdemeanor charge of carrying a concealed weapon.
On Thursday, Blankenship reportedly waived his right to a preliminary hearing. He is currently being held in the Summit County Jail on a $100,000 bond, according to WEWS.
Akron police have launched a joint investigation with FBI and ATF agents to determine if there was any connection between Blankenship and the vigil.
FBI spokesperson Vicki Anderson told WEWS she could not "confirm or deny any possible ongoing investigation."
Akron Councilwoman Tara Mosley-Samples said she knew that something was wrong when she saw bomb-sniffing dogs and police descend on the area before the vigil.
"I want them to get to the bottom of it immediately. Whether it was an immediate and direct threat to that vigil, there was some intent for something," Mosley-Samples told WEWS. "Why would your ride around with a pipe bomb?"