Trump orders rollback of environmental rules to speed up infrastructure permit process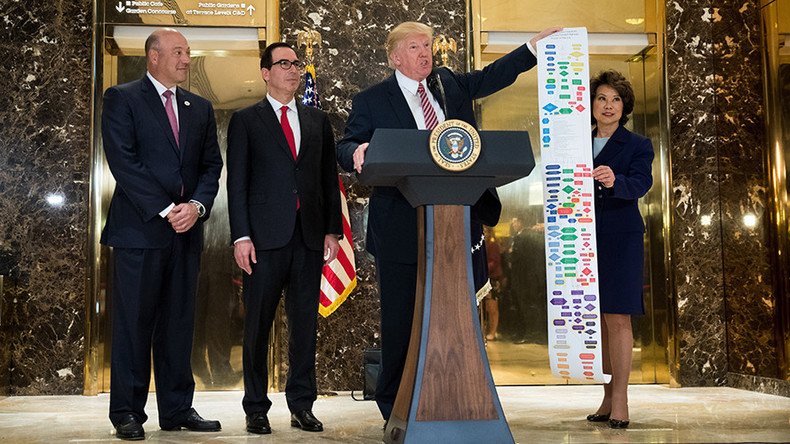 President Donald Trump has unveiled new plans to speed up approval processes for highways and other infrastructure projects, by revoking an environmental regulation aimed at protecting against the effects of climate change.
Addressing a news conference at Trump Tower in Manhattan Tuesday, Trump elaborated on an executive order he signed earlier in the day, which he said would "dramatically reform the nation's badly broken infrastructure permitting process."
Trump claimed the executive order would establish "discipline and accountability in the environmental review and permitting process for infrastructure projects," as well as reduce the time it takes federal agencies to approve highways, tunnels, bridges and many other major infrastructure projects.
The president began by unraveling what he called a "long, beautiful chart," which he said depicted all the steps involved in getting a single highway project approved. Then, he took out a much smaller flow chart to show what the process would look like under his new policy.
Trump said a highway that used to take 10 to 20 years to get approved would only take two years under his policy.
"We're going to get infrastructure built quickly, inexpensively, relatively speaking and the permitting process will go very, very quickly," Trump said, according to a transcript from Politico. "It's going to be quick, it's going to be a very streamlined process, and by the way, if it doesn't meet environmental safeguards, we are not going to approve it – very simple."
While Trump promised that the federal government would not approve projects that do not meet environmental standards, the executive order he signed would revoke an environmental regulation enacted under former President Barack Obama.
The Federal Flood Risk Management Standard, established by Obama in an executive order, required federally-funded infrastructure projects to "address current and future flood risk and ensure that projects funded with taxpayer dollars last as long as intended."
The standards were set as part of a national policy to anticipate the stronger storms and rise in sea levels that have been projected to occur as the consequences of climate change continue to grow more devastating.
Environmental groups attacked Trump over his plan, with Janet Redman, the US policy director at Oil Change International, saying the plan will lead the US into "a fossil fuel buildout that locks America into climate catastrophe."
"Spending taxpayers' hard-earned money on schools, hospitals, roads, and bridges that can't stand the test of time as climate impacts grow more severe couldn't be more wasteful," Redman said in a statement. "I doubt Trump would let his chauffeur drive over one of these bridges in a rainstorm."
Trump also said that he is looking to speed up the approval process by implementing a "One Federal Decision policy" that would assign a lead federal agency to each major project. That agency would be the primary point of contact for the project and help guide the project through the stages of the environmental review process.
Trump said regulations have made the US "literally like a third-world country." He promised the US would build the best infrastructure in the world under his plan.
A fact sheet that accompanied the executive order stated that Trump has called for $200 billion in direct federal infrastructure spending in his 2018 budget proposal as a part of his $1 trillion infrastructure plan.
You can share this story on social media: