Carrier buzzed by Iranian drone in Persian Gulf - US Navy
Published time: 14 Aug, 2017 17:46
Edited time: 15 Aug, 2017 08:03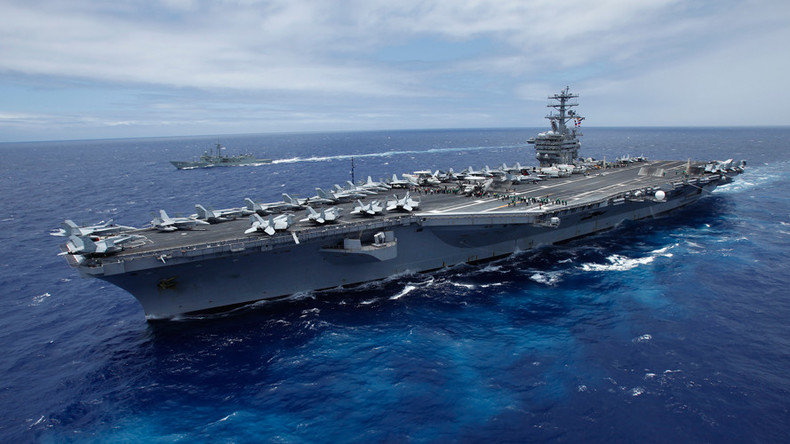 The US Navy is protesting what it called an "unsafe and unprofessional approach" by an Iranian drone of a US nuclear-powered aircraft carrier in the Persian Gulf. It is the second incident involving the USS Nimitz and Iranian drones in a week.
On Sunday, an Iranian unmanned aerial vehicle came close to the Nimitz in international waters of the Gulf.
"An Iranian QOM-1/Sadegh-1 conducted an unsafe and unprofessional approach of USS Nimitz," Lieutenant Ian McConnaughey, spokesman for US Naval Forces Central Command (NAVCENT), said in a statement.
"The failure of the Iranian UAV to utilize standard, internationally-mandated navigation lights during a night time approach of a U.S. aircraft carrier engaged in flight operations created a dangerous situation with the potential for collision and is not in keeping with international maritime customs and laws."
On August 8, the same type of drone came within 100 feet (31 meters) vertically and 200 feet (62 meters) laterally of a F/A-18E Super Hornet while it was on the landing approach to the Nimitz, forcing the pilot to change course. Unnamed Pentagon officials accused Iran of acting in an "unsafe and unprofessional" manner.
On July 25, the patrol ship USS Thunderbolt fired warning shots at an Iranian patrol boat in international waters, because it reportedly came to close to US vessels and refused to change course. The Iranian Revolutionary Guard Corps (IRGC) condemned the "unprofessional and provocative behavior" of the US crew.
Sunday's encounter is the 14th close call between US and Iranian forces in the Gulf this year, CNN reported citing an unnamed US Navy official. According to the Pentagon, there were 35 such encounters in 2016.