Marine Corps orders 24-hour grounding of flights for all aircraft following deadly crashes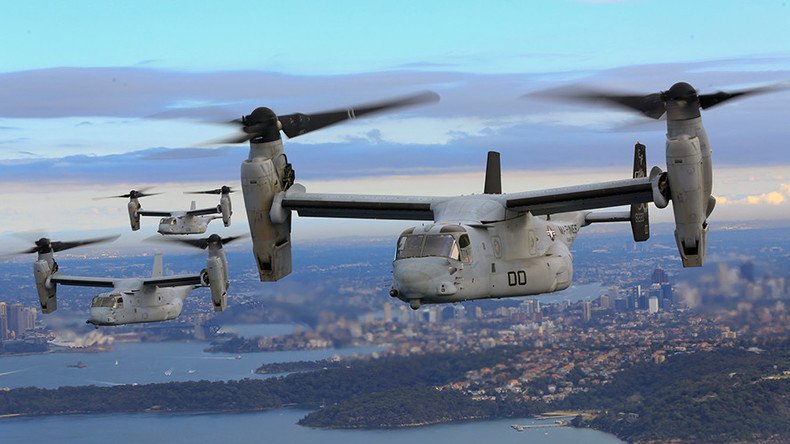 For the second time in just over a year, the Marine Corps ordered all of the branch's aircraft to suspend flight operations for a 24-hour "operational reset" following two deadly aviation accidents in recent weeks.
In a press release issued Friday, General Robert Neller, Commandant of the US Marine Corps, directed all US Marine Corps aviation units to "conduct an operational reset for a 24 hour-period."
The operational pause will affect all Marine Corps aircraft, including those stationed abroad as well as deployed units. However, officials said that "no operational commitments will be impacted" during the pause.
All units were directed to conduct the temporary pause over the next two weeks, but each unit commander was given the flexibility to carry out the pause at their own discretion, "based on their unit's operational commitments."
Marine Corps spokesman Captain Christopher Harrison told USNI News that commanders of the deployed squadrons will be given an extension if the pause would cause them to sacrifice their operational obligations.
Neller ordered the pause in order to conduct a refresher course "on the fundamentals of safe flight operations, standardization, and combat readiness."
"The intent is for flying squadrons to review selected incidents which occurred enterprise-wide and study historical examples of completed investigations in order to bring awareness and best practices to the fleet," officials said in the press release.
Marine Corps officials added that operational pauses are "not uncommon and are viewed as a responsible step to refresh and review best practices and procedures so our units remain capable, safe, and ready."
The pause comes in the weeks after two major Marine Corps aviation accidents resulted in the loss of nearly 20 lives. Last week, three Marines died when a tilt-rotor MV-22 Osprey tilt-rotor aircraft crashed off the coast of Australia during a training mission.
In July, a KC-130T crashed in Mississippi after a transport mission, resulting in the death of 15 Marines and one Navy corpsman.
Harrison told USNI News that the Marines will study completed investigations and previous mishaps in order to "ensure all air wing Marines and sailors are informed of incidents happening across the enterprise and ensure they don't happen again."
On Friday, Rep. Mac Thornberry (R-Texas), chairman of the House Armed Services Committee, said that the Marines' decision to ground all aircraft is "further, indisputable evidence that America's military is in a readiness crisis, and that the crisis is costing lives."
"Washington has asked our military to do too much with too little for too long," Thornberry said, according to the Marine Times. "As threats continue to grow, Congress must act as soon as possible to provide our military with all of the resources they need to repair what can be fixed and replace what cannot be repaired."
The last time the Marine Corps ordered a 24-hour operational pause was in August 2016, after three F/A-18 Hornets with Marine pilots crashed in the span of two months. Two of those crashes were fatal.
You can share this story on social media: