Trump warns Venezuela of US 'military option,' Caracas calls it 'crazy'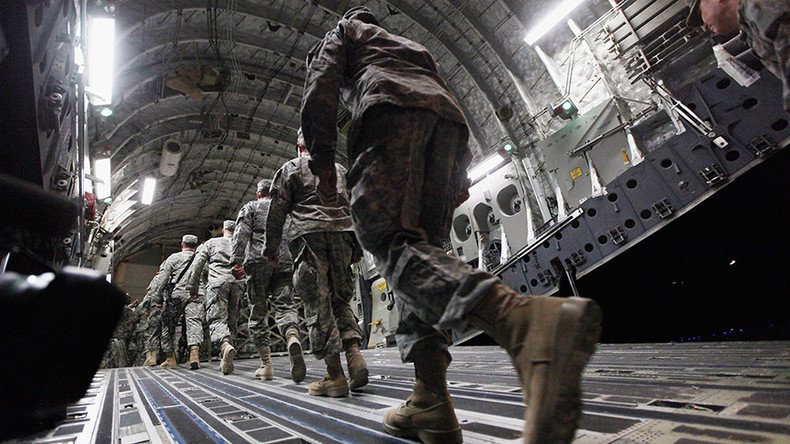 The crisis in Venezuela could prompt a US military response, President Donald Trump has told reporters. The Pentagon, however, has reportedly not been directed on any such plans.
On Friday, Trump appeared outside his golf club in Bedminster, New Jersey, alongside Secretary of State Rex Tillerson and US Ambassador to the UN Nikki Haley, where he told reporters that he had "many options" for responding to the Venezuelan crisis.
"The people are suffering and they are dying. We have many options for Venezuela including a possible military option if necessary," Trump said, according to Reuters.
Trump called Venezuelan President Nicolas Maduro a "dictator" and blamed him for the humanitarian situation in the country.
Trump did not elaborate as to whether American troops would be leading the military option.
"We don't talk about it," he said. "But a military operation, a military option, is certainly something we could pursue."
The US military, however, has not been instructed to provide that option.
"The Pentagon has received no orders," Department of Defense spokesperson Eric Pahon told Reuters.
Venezuela's defense minister, Vladimir Padrilo, denounced Trump's talk of a possible military intervention, labelling it "an act of craziness," speaking to state TV on Friday evening, as cited by Reuters.
The country's Communications Minister Ernesto Villegas also called Trump's statement "an unprecedented threat to national sovereignty" in a state TV interview.
Thursday evening, Maduro addressed the 545 members of the new Venezuelan Constituent Assembly and said he wants a relationship with the US. Maduro reached out, saying, "Mr. Donald Trump, here is my hand," the Washington Post reported.
Meanwhile, the White House claimed it had declined a request by Maduro to have a phone call with Trump, accusing the Venezuelan government of not "heeding the call" to stop alleged human rights violations.
The US leader "will gladly speak" with his Venezuelan counterpart "as soon as democracy is restored," a statement released Friday evening read.
On August 9, the US imposed sanctions on eight Venezuelan officials, including President Nicolas Maduro and the brother of former President Hugo Chavez. The sanctions were imposed due to last month's Constituent Assembly elections in Venezuela, which the US called "illegitimate." Approximately 8 million people voted for 545 candidates who will look to draft a new constitution for the country.
READ MORE: Chavez's brother among 8 new Venezuela officials sanctioned by US Treasury
"I am proud of the alleged sanctions... because I do not wag my tail like a lying dog," Maduro said. The sanctions state that the US will conduct no business with those individuals.
On Thursday, Senators Bill Cassidy (R-Louisiana), John Cornyn (R-Texas), Thad Cochran (R-Mississippi) and Roger Wicker (R-Mississippi), who hail from oil refining states, called upon Trump to avoid a blockade of the Venezuelan oil sector. They sent a letter to the president outlining their concerns.
"Domestically, we are concerned that unilateral sanctions could harm the US economy, impair the global competitiveness of our businesses, and raise costs for our consumers," the senators wrote.
In the letter the lawmakers mentioned that it is "critical" to consider "the role that the US energy industry and refining sector play in our economic and national security interest."
"It is in the best interest of the US and the Venezuelan people to maintain our economic ties as leverage for delivering a democratic government back to the people," the letter reads.
Speaking to RT Spanish in July, Maduro accused Trump of "aggression" and slammed the US for what he said was an "indirect blockade" of Venezuelan economy.
"As a president, I appeal to him, to President Donald Trump: Stop aggression toward Venezuela. Venezuela is a fundamental basis of stability in the whole Caribbean Basin," Maduro said, adding that "the Bolivarian revolution will have to take up arms" and fight "across our border" in the worst case scenario.
Maduro also accused the opposition of flatly rejecting dialogue and his government's attempts to bring about reconciliation, saying that its supporters "have become prisoners of strategies of local violence." The opposition in turn accuses Maduro of violating the Constitution and staging a "coup."
Reporting for RT on the ground, Carlos Camacho has described the situation in Venezuela as it now having "two parliaments: one is dominated by the opposition, and another by Nicolas Maduro." Camacho says the situation is exacerbated by the opposition's ambiguous stance on the violent protests, which it does not directly endorse but doesn't denounce either, calling it "people's demonstrations." As many as 150 people have reportedly been killed in the violence since late March.
You can share this story on social media: