'No US warplanes over Syria': Congress & Pentagon hit with 68k petition signatures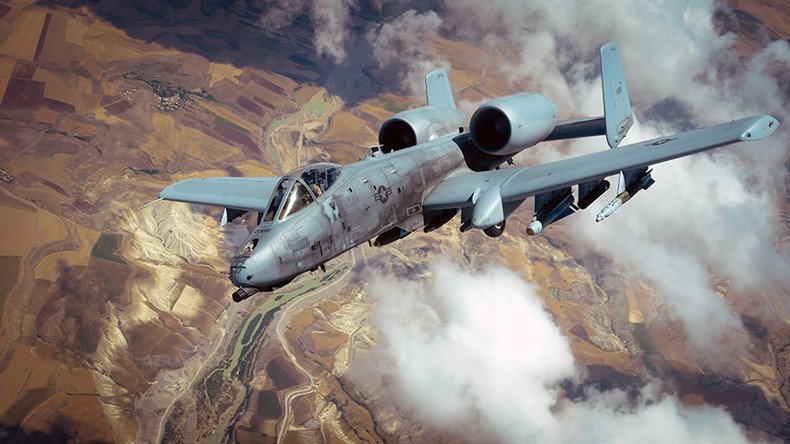 A CIA whistleblower and ex-Marine Corps captain are among the outspoken leaders of a campaign to stop the US bombing of Syria before a "nuclear apocalypse" erupts out of the conflict with Russia.
The National Press Club in Washington, DC on Tuesday hosted a conference of five speakers opposed, morally and legally, to US intervention in Syria, especially the use of US warplanes and drones. Their presser centered around a petition addressed to Defense Secretary James Mattis and Congress.
Matthew Hoh, a former Marine captain who later became the top civilian representative in Zabul Province, Afghanistan, before resigning in 2009 in protest of former President Barack Obama's "surge" of the war there, warned that much more is at stake in Syria than simply violations of international law.
"We are on the brink with a war with Russia," Hoh said, noting that Syrian President Bashar al-Assad had at least invited Russia's military into the country.
Russia and the US both have warplanes flying missions against the Islamic State, but their definitions of what constitutes a "terrorist" differs, when US-backed so-called moderate Syrian rebels are targeted.
Author and activist David Swanson went further than the others on the panel, calling Assad an "exiled dictator" who had no right to call in any foreign country to conduct a war. Swanson held nothing back in condemning the US as well, however.
"Since World War II, the United States has interfered, as we know, in at least 82 foreign elections, though not in the bad Russian way presumably," Swanson quipped, "and bombed over 30 countries."
"No one appointed the US to this role," he added. "This is not enforcing law, this is violating law, so it has to end."
Norman Solomon, executive director of Institute for Public Accuracy and coordinator for Rootsaction.org, agreed that the US's bombing of Syria risks unintended consequences.
"What is at stake includes the very real possibility that conflicts in the air could escalate into military clashes between Russia and the United States that could spiral into nuclear warfare," he said.
Solomon also told RT America's Anya Parampil that politics should be set aside in matters of preventing nuclear war.
"It doesn't matter if people like or hate Trump, like or hate Putin," he said. "We have one planet, we have thousands of nuclear weapons in the arsenals of each of those countries, and it is in some sense insane to believe that there's something ethical about escalating the tensions."
Those Americans who are aware of the potential peril must make themselves heard, Solomon said, and he added that US involvement in Syria amounts to "an almost invisible war" for most Americans.
CIA torture whistleblower John Kiriakou remained open to the US having some say in Syrian matters, but only through diplomatic means.
"The only way to save that country from becoming a failed state or an ISIS state, is to sit at the table with all of the stakeholders, including the Syrians, the Russians, and whether we like it or not, the Iranians," he said.
READ MORE: Iranian drone buzzes US Navy jet in Persian Gulf - Pentagon
The petition, which was launched over a month ago, surpassed its goal of 60,000 signatures. By Tuesday evening, the count was at 68,643.
The message to Pentagon chief James Mattis and Congress reads: "We urge you to immediately remove all US military planes from Syrian skies and keep them out of that country's airspace."
You can share this story on social media: