Opioid deaths in US break new record - government data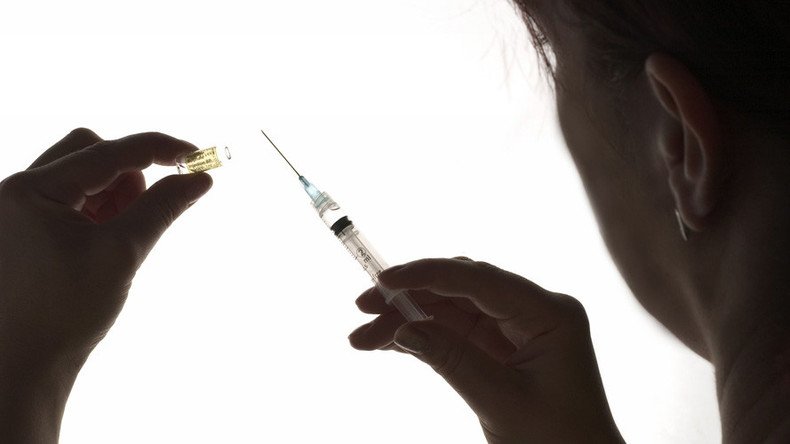 The first nine months of 2016 saw a sharp increase in opioid drug overdoses in the US compared to the prior year, according to new data by the National Center for Health Statistics (NCHS). The government is struggling to respond to the crisis.
Deaths due to drug overdose peaked in the third quarter of last year – 19.7 cases for every 100,000 people, compared to 16.7 in the same period the year before, according to newly released numbers from the NCHS, which is part of the US Centers for Disease Control and Prevention (CDC).
The Centers attributed 33,000 deaths in 2015 to opioid drugs, including legal prescription painkillers as well as illicit drugs like heroin and street fentanyl.
"Opioid prescribing continues to fuel the epidemic. Today, nearly half of all US opioid overdose deaths involve a prescription opioid," according to the CDC.
A new study published in the American Journal of Preventive Medicine says actual opioid mortality rate changes are on average 22 percent higher than federal statistics indicate, due to information missing from CDC records.
"Opioid mortality rate changes were considerably understated in Pennsylvania, Indiana, New Jersey and Arizona," said the study's author, Dr. Christopher Ruhm, a health economist at the University of Virginia.
Top US officials have consistently raised the alarm about the addiction crisis in the US, but a solution is yet to be found.
On Tuesday, US President Donald Trump held a meeting with top members of his administration, including Human Services Secretary Tom Price, on ways to combat "this absolutely terrible epidemic," he said.
"Strong law enforcement is absolutely vital to having a drug-free society," Trump said, adding: "We're also very, very tough on the southern border, where much of this comes in."
However, "the best way" to solve the problem, according to the president, is to prevent people from taking the drugs in the first place. "If they don't start, they won't have a problem. If they do start, it's awfully tough to get off. So if we can keep them from going on and maybe by talking to youth and telling them: No good, really bad for you in every way."
Last week, the Trump-appointed commission on combating the drug addiction crisis in America called on the president to declare "a national emergency." After the meeting with Trump on Tuesday, Price said the administration will act without such a declaration.
"Here is the grim reality," the commission wrote in their letter to Trump. "Americans consume more opioids than any other country in the world. In fact, in 2015, the amount of opioids prescribed in the US was enough for every American to be medicated around the clock for three weeks."
Arizona, Florida and Maryland have already declared a state of emergency in response to the national epidemic.
Congress approved nearly $1 billion last year to fund a response to the crisis as part of the 21st Century Cures Act of 2016. A similar amount is expected to be approved next year.
Trump wanted Congress to allocate $45 billion to opioid addiction treatment as part of a healthcare bill that would replace the Affordable Care Act, or Obamacare, but the replacement proposal failed in Congress.
"Treatment is important, treatment is not enough," Attorney General Jeff Sessions said last week in Ohio, where he announced that a dozen federal prosecutors will be sent to cities ravaged by the opioid epidemic to investigate health care fraud and opioid scams.
Prosecutors, who will be funded by the Justice Department for three years, will work to root out pill mills and track down doctors and other health care providers who illegally prescribe or distribute narcotics such as fentanyl and other powerful painkillers, Sessions said.
They will be based in US attorney's offices in Alabama, California, Florida, Kentucky, Maryland, Michigan, Ohio, Nevada, North Carolina, Pennsylvania, Tennessee, and West Virginia.
Ohio is one of the states hit hardest by the opioid crisis, with eight people dying of accidental overdose every day.
Joining Sessions for the announcement last Wednesday was Ohio Attorney General Mike DeWine, who is leading a lawsuit against five drug manufacturers, accusing them of intentionally misleading patients about the dangers of painkillers and claiming drug benefits not backed by science.
The drug companies have created a "deadly mess in Ohio that they now need to pay to clean up," DeWine said in May when filing the suit.
A growing number of state and local governments are suing drug makers and distributors, seeking to hold them accountable for the opioid crisis.
You can share this story on social media: