Officer escapes Las Vegas shootout unharmed as bullet hits his gun belt (PHOTO, GRAPHIC VIDEO)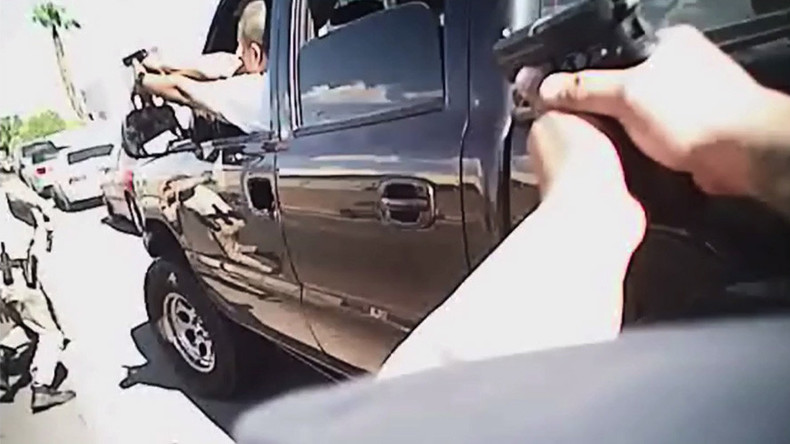 Las Vegas police have released footage of a Tuesday shootout. In a scene worthy of an action movie, a suspect whipped out a gun on the two officers – one of whom escaped unharmed thanks to a sturdy gun belt.
Officers responded to a call about a suspicious-looking vehicle and when they interviewed the occupant, he opened fire, hitting both officers.
The person who made the call to the police claimed that their house had been burgled two days prior and that they had tracked their stolen cell phone to the location, according to an official police statement.
As the two responding officers interviewed the suspect, later identified as Miguel Salas, 25, he began acting suspiciously and attempted to start his vehicle and flee the scene several times. After refusing to comply with multiple requests to exit his vehicle, he opened fire on the officers with a handgun.
Both officers returned fire while taking cover and requested armed backup to deal with the situation.
The Las Vegas Metropolitan Police SWAT team and Crisis Negotiation Team arrived on scene and formed a security cordon with their armed vehicles. They attempted to contact Salas via a speaker system but he was non-responsive.
He was later pronounced dead at the scene, having succumb to injuries sustained in the exchange of gunfire.
One of the officers was taken to the UMC Trauma Center for a gunshot wound while his partner was lucky enough to escape without any injuries as Salas' bullet ricocheted off his gun belt.
This is the 15th officer-involved shooting for the Las Vegas Metropolitan Police Department so far in 2017.
The LVMPD Critical Incident Review Team will conduct an investigation into the officers' use of force.