Satanist delivers historic invocation, hails Satan at Colorado council meeting (VIDEO)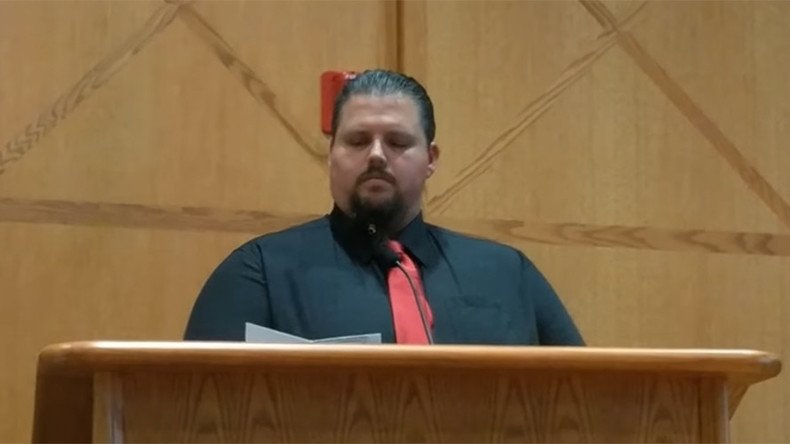 In a move that both attracted and scared away attendees from a Colorado council meeting, a Satanist delivered the invocation Wednesday. Those opposed gathered outside while Andrew Vodopich became the first Satanist in the state to deliver the prayer.
Representing the Western Colorado Atheists and Freethinkers, Vodopich delivered the invocation at the Grand Junction City Council meeting. The one minute prayer would have failed to raise an eyebrow had it not been for a "Hail Satan" tacked to the end.
Video from the meeting shows council members standing as he delivers his words. At the end, an attendee can be heard saying "Yeah, what he said."
Speaking to the Grand Junction Daily Sentinel, Vodopich said he was "pleasantly surprised at the reception."
He said he was expecting something similar to a Satanic invocation in Pensacola last year, when the prayer was met with raised hands brandishing bibles and praying.
Despite the calm inside the meeting, outside, opposition was present. "We didn't feel like it was right to disrupt," Mackenzie Dodge told the Sentinel. "That's not what we're here for… We wanted to lift up the Lord's name high and cast out what's not for Him."
Dodge had taken to Facebook to arrange a prayer gathering to coincide with Wednesday's invocation. "While we do not argue anyone's right to do this, we will not sit silently by without raising our Lord's name is support of our community," she said.
READ MORE: Satanic Temple rejected by Phoenix gets OK from Scottsdale
Vodopich was the first Satanist to deliver the invocation in Colorado. Several states have allowed non-Christian groups to partake in the tradition, citing the right to free speech in their defence.
In January, a Satanic Temple in Arizona was rejected in Phoenix after being chosen to deliver the invocation
You can share this story on social media: