Senate unanimously blocks Trump from recess appointments
Published time: 4 Aug, 2017 15:55
Edited time: 5 Aug, 2017 15:52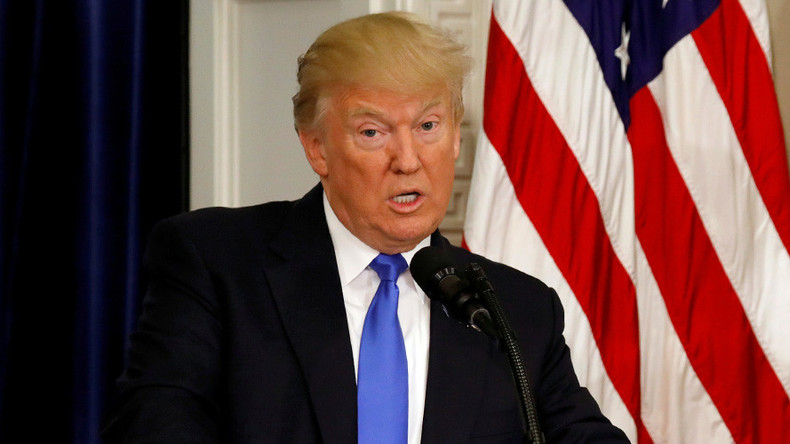 The US Senate may be taking a month-long break in August, but Republicans and Democrats agreed to hold nine "pro forma" sessions to skirt the definition of being "in recess," blocking any appointments President Donald Trump might wish to make.
After confirming 65 Trump nominees to posts ranging from ambassadorships to the Federal Communications Commission, the Senate adjourned Thursday for a month-long break. Wrapping up the chamber's business, Senator Lisa Murkowski (R-Alaska) locked in nine "pro forma" sessions, to be held every three days during the August recess. None of her colleagues objected.
Double FU from McConnell to Trump: leaving town w/out passing healthcare & putting Senate in pro-forma session to block recess appointments.

— Amy Siskind (@Amy_Siskind) August 3, 2017
The move was widely seen as a rebuke to Trump, as he will not be able to make any "recess appointments" during the month-long break ‒ including the new head of the Department of Homeland Security to replace John Kelly, who ran the agency for seven months before taking over as the White House chief of staff this week.
Trump has already signaled his displeasure with both houses of Congress, after they passed a bill imposing new sanctions against Russia, Iran and North Korea with sufficient votes to override his veto. He signed the bill into law on Wednesday, but called several provisions "clearly unconstitutional."
Iran has called the sanctions a violation of the 2015 nuclear deal, while several European government said the US law would harm their national interests. Russian Prime Minister Dmitry Medvedev called the bill a "humiliating defeat" for Trump and part of a power grab by Congress.
"Our relationship with Russia is at an all-time and very dangerous low," Trump tweeted on Wednesday. "You can thank Congress, the same people that can't even give us healthcare!"
Last month's battle over the repeal of Obamacare appears to be related to the recess appointment block. Trump ran on the platform of repealing and replacing the health insurance mandate the Democratic majority passed in 2010 without any Republican support. When it was time to actually do it, the Republicans balked. Murkowski was one of the three Republican senators who helped sink the so-called "skinny repeal" of Obamacare, along with Susan Collins (R-Maine) and long-time Trump foe John McCain (R-Arizona).
Opposition to Obamacare repeal efforts was also why the Democrats were slowing down the approvals for Trump appointees, Minority Leader Chuck Schumer (D-New York) had told Republicans, according to the Washington Examiner.
Despite Thursday's flurry of approvals, many posts in the Trump administration remain vacant or in the hands of Obama administration holdovers.
The tactic of meeting pro-forma to avoid being in recess was adopted following the unanimous US Supreme Court decision in 2014 (National Labor Relations Board v. Canning) that the Obama administration had exceeded its authority by appointing several officials while the Senate was away.
In a concurring opinion, conservative Justice Antonin Scalia described the recess appointment power as "an anachronism" whose continued existence was "unfortunate." Justices Roberts, Thomas and Alito agreed.