Meat you halfway: California butcher shop hangs 'animal rights' sign to stop vegan protesters
After months of protests, a small butcher shop gave in to a list of demands from animal rights activists and agreed to display a sign in their window that warns customers that "animal lives are at risk."
The Local Butcher Shop in Berkeley, California, made a deal with Direct Action Everywhere, a non-profit group whose mission is to create "a peaceful and beautiful world where the animals are liberated."
As a part of the deal, the meatmarket agreed to hang a 15-inch square sign in their window that reads: "Attention: Animals' lives are their right. Killing them is violent and unjust, no matter how it's done."
In exchange, the vegan group, also known as DXE, has agreed to hold only two more protests as long as the sign stays up for the next year.
"The most palatable option to us was to put that sign up" Monica Rocchino, who owns the butcher shop, told the Berkeleyside. "The protests impacted the neighbors and local businesses more than it impacted us… so it felt like the most respectful thing to do."
DXE has held weekly protests in front of the butcher shop, while the meat vendor held classes. Some of the protests involved people wrapped in plastic and dripping with fake blood as if they were cuts of meat.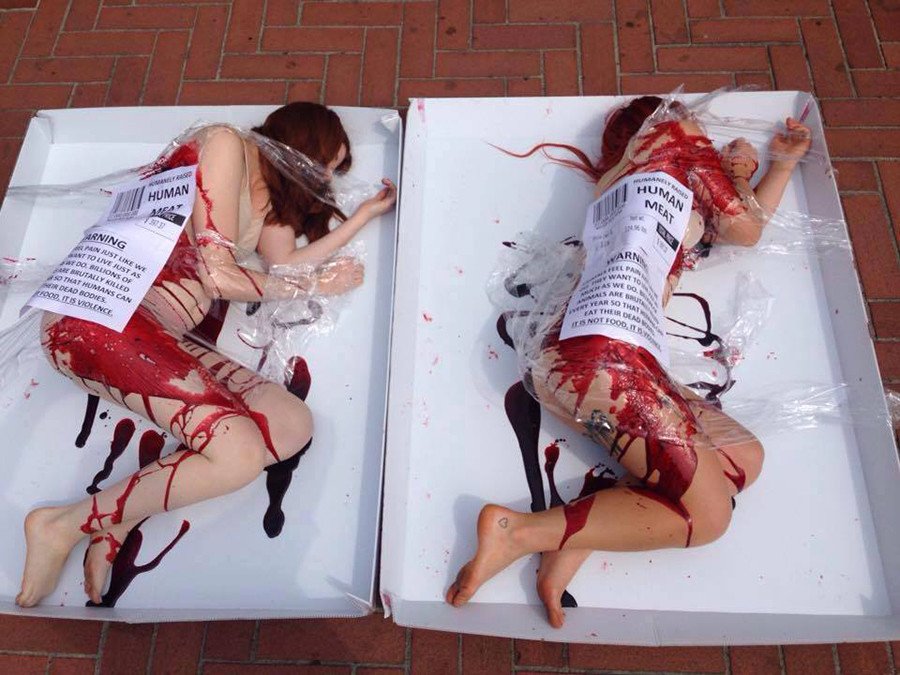 The herbivores said the butchering classes "normalized violence against animals," adding that the demonstrations were speaking "for the animals and for justice."
The business claimed to practice humane butchery. However, DXE organizer Matt Johnson said there is no such thing.
"People have this notion that there is a right way to hurt animals. We wouldn't look for the right type of violence to kill a puppy," Johnson told the Berkeleyside.
DXE declared victory on Facebook, posting a video on Tuesday that their actions "denormalized violence toward animals."
Activists say Berkeley butcher shop has agreed to display an animal rights poster in window in exchange for fewer protests outside shop pic.twitter.com/lrr8Xieqmd

— Jodi Hernandez (@JodiHernandezTV) August 2, 2017
Johnson also started a petition to get the mayor of Berkeley to "ban all 'humane' and similarly positive and fraudulent marketing of violence animal bodies and secretions."
"This includes labels on products themselves as well as all messaging and advertisements in or about these products," the petition states.
You can share this story on social media: