2 dead in Minneapolis school 'gas explosion' (PHOTOS)
Published time: 2 Aug, 2017 17:02
Edited time: 3 Aug, 2017 09:42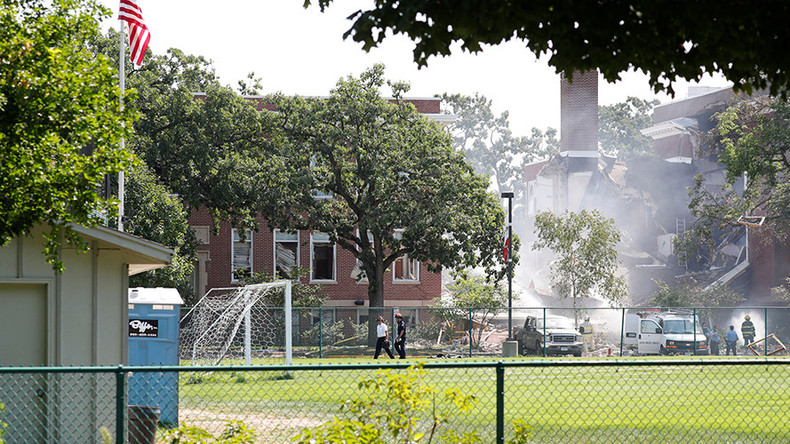 An explosion at a Minneapolis school has killed two and injured at least nine people.
Minnehaha Academy confirmed Ruth Berg, a receptionist with the school for 17 years, died as a result of the explosion.
"As our receptionist, she welcomed everyone with a smile and was always willing to go the extra mile to help our students, families, and staff. She will be greatly missed," the Academy said in a Facebook post.
In a separate Facebook post, the Academy said that John Carlson, another school employee, is "still unaccounted for."
A second body was pulled from the rubble later on Wednesday, but authorities declined to identify the second victim, pending notification of next of kin.
The Hennepin County Medical Center said they are treating four patients from the explosion, one was said to be in critical condition, while three others were described as "satisfactory." they also said there were five patients discharged.
The school also said that all of their Summer Program students and staff are "accounted for and safe" and most afternoon camps will continue as planned.
At a media briefing on Wednesday, Minneapolis Assistant Fire Chief of Bryan Tyner said responders are still searching through the debris for the one missing person, but did not disclose the identity of that person.
Tyner said that city inspectors have inspected the building and fire crew have been working with heavy equipment contractors and other city officials to remove debris. He said that they have a "general location" of where the missing person might be located,
"My hope is that there might be a void space. We don't know," Tyner said. "But I want to be very precise and very strategic in what we're trying to do here and not just go in there with a bucket and start taking the building apart. We have to take our time."
The Associated Press confirmed through the Minneapolis fire chief that one person was killed in the blast that police believe was caused by a gas leak.
Police said five people were taken to a local hospital for treatment while one person was treated at the scene. Earlier reports said that three people were unaccounted for, but one was subsequently found alive and another found dead.
Technical Rescue/Structure Fire - 3100 block of W. River Pkwy. School building collapse caused by possible natural gas explosion.

— Minneapolis Fire (@MinneapolisFire) August 2, 2017
CenterPoint Energy, which responded to the explosion, said that the cause of the explosion is still unknown, adding "focus at this time is making the area safe." They said they will be conducting an investigation to determine the cause.
Three people are thought to have been on the roof of Minnehaha Academy near the center of the city at the time of the incident, police told a press briefing.
There was also no indication from authorities if the missing were staff or students.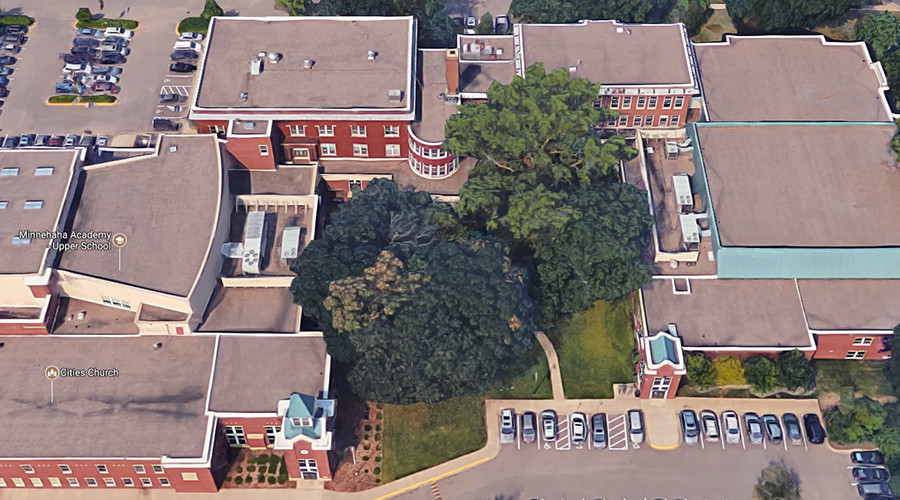 Police also reported that part of the partially-collapsed building was on fire when they arrived at the scene. Emergency crews are working on extinguishing the blaze.
Minnehaha Academy is a Christian private school in Minneapolis, Minnesota for students in preschool through 12th grade.