Chicago prison finds way to prevent inmates from dying of overdose upon release
Published time: 2 Aug, 2017 00:21
Edited time: 2 Aug, 2017 08:08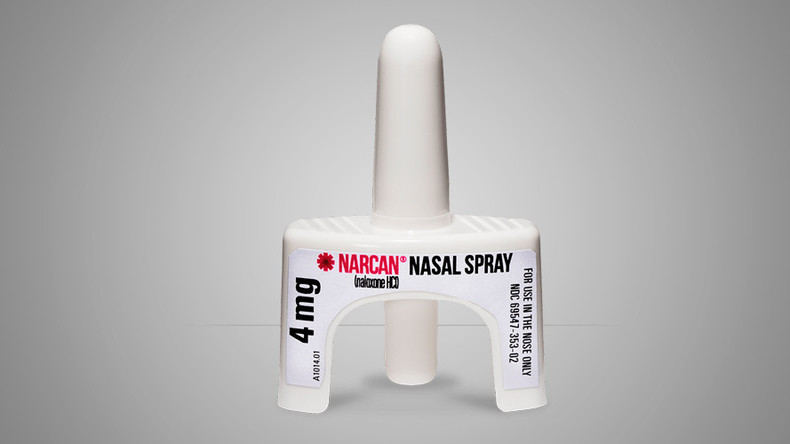 The Cook County Jail in Chicago has begun providing the overdose-reversing drug naloxone to at-risk inmates upon their release. Los Angeles may soon follow suit, as the US struggles to combat the nation's opioid epidemic.
Approximately 900 inmates at the Chicago facility, which is the largest single-site prison in the country, have been trained to use naloxone nasal spray devices designed to reverse the effects of an opiate overdose almost immediately.
Addicts are most at risk of fatally overdosing in the two weeks after getting out because of their time away from drugs while locked up, Sheriff Tom Dart, whose office runs the Cook County Jail told AP.
"We've got to keep them alive (and) if we can get them through that two-week window, they might get treatment, get off drugs," Dart said.
Naloxone can be administered by an overdosing addict, a friend or family member before emergency responders can reach them. Many believe that programs providing the nasal sprays save lives.
Three years ago, the World Health Organization (WHO) released guidelines recommending expanded naloxone access to people likely to witness an overdose, including drug users.
A growing number of America's law enforcement agencies – 1,217– now carry naloxone kits, up from 971 agencies eight months ago, according to the North Carolina Harm Reduction Coalition.
"We are trying to saturate this community with this drug and we are educating them to tell their buddy, mother, father how to use it, where they keep it and, 'If you come home and see me not responding, to go get it and use it,'" said Dr. Connie Mennella, the chair of Correctional Health for Cook County's health and hospitals system, which administers the Chicago inmates' training program.
The dispensing of naloxone is now also one of the recommendations put forward by the White House commission on combating the opioid epidemic in America.
On Monday, members of the Commission who were appointed by President Donald Trump in March, wrote a letter detailing their recommendations.
"The first and most urgent recommendation of this Commission is direct and completely within your control. Declare a national emergency under either the Public Health Service Act or the Stafford Act," the committee wrote to the president.
"Here is the grim reality," the letter added. "Americans consume more opioids than any other country in the world. In fact, in 2015, the amount of opioids prescribed in the US was enough for every American to be medicated around the clock for three weeks."
Their suggestions include mandating prescriber education initiatives, providing model legislation for states to allow dispensing of naloxone, as well as establishing and funding a federal incentive to enhance access to treatment.
The goal of the Commission has been to study mechanisms to combat and treat the US opioid epidemic, which killed a record 33,000 people nationwide in 2015, according to the US Centers for Disease Control and Prevention.
Arizona, Florida and Maryland have already declared a state of emergency in response to the national epidemic.
Congress approved nearly $1 billion last year to fund a response to the epidemic as part of the 21st Century Cures Act of 2016. A similar amount is expected to be approved next year.
Trump wanted Congress to allocate $45 billion to opioid addicts' treatment as part of a healthcare bill that would replace the Affordable Care Act, or Obamacare, but the replacement proposal failed in Congress last week.