Tropical Storm Emily triggers state of emergency in Florida
Published time: 31 Jul, 2017 18:22
Edited time: 1 Aug, 2017 08:38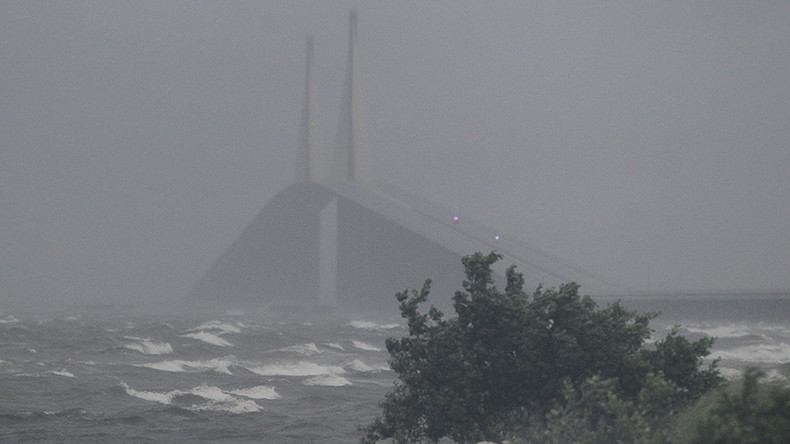 Florida Governor Rick Scott has declared a state of emergency in 31 counties as Tropical Storm Emily hit Florida's west coast. The order comes as the tropical depression was upgraded to a tropical storm by the National Hurricane Center.
"At this time, there are no evacuation orders in effect," Scott said in a statement released on Monday, after the storm made landfall. "The Florida National Guard stands ready to assist with any storm-related impacts."
A state of emergency order gives the state more flexibility to work with local government to keep people safe.
Emily is expected to move across the Florida peninsula on Monday, after traveling from the Gulf of Mexico, the governor said.
The storm is expected to bring 2 to 4 inches of rain and wind to central and southern Florida. Emily is forecast to move inland over the west-central Florida peninsula later Monday and across central Florida overnight, and weaken to a tropical depression as it does so.
On Monday morning, strong winds ripped off the roof of the Outrigger Hotel in Fort Myers, on Florida's Gulf Coast, as Emily made landfall.
The National Hurricane Center upgraded the tropical depression after wind speeds hit 45mph. A tropical depression becomes a tropical storm when its winds hit between 39mph and 73mph. To become a hurricane, wind speeds have to be at least 74mph.
Emily will emerge along the east coast of Florida on Tuesday and move back out to sea, according to AccuWeather.