Hackers invited to break into US voting machines to find election vulnerabilities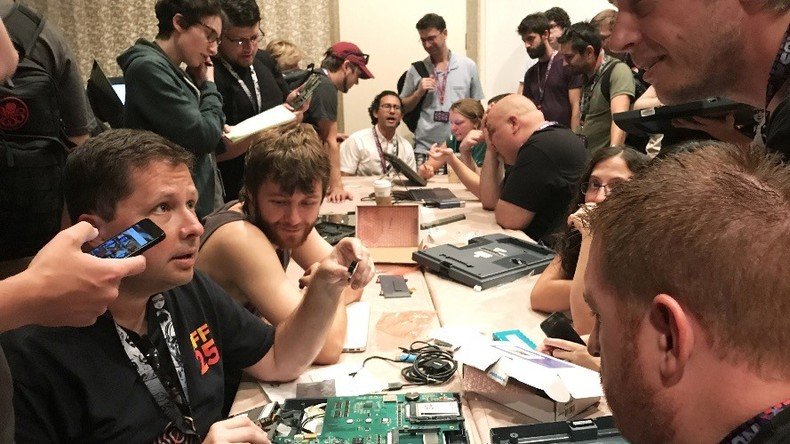 Tens of thousands of hackers from around the world were granted access to US voting machines at the Def Con convention in Las Vegas and tested them for hours to find vulnerabilities.
On Friday, Caesar's Palace in Las Vegas was packed with hackers from around the world, where they studied and practiced hacking everything from Twitter accounts to self-driving cars, during the annual Def Con convention.
This was the first year in the convention's 25-year history that included an interactive area on voting machines. The "hacker voting village" gave hackers the ability to break into more than 30 popular voting machines as well as voter databases in a bid to discover vulnerabilities that could be exploited to alter the results of an election.
"We encourage you to do stuff that if you did on election day they would probably arrest you," Matt Blaze, a professor at the University of Pennsylvania and one of the event's organizers, said, according to Reuters.
Jake Braun, a former White House liaison to the Department of Homeland Security and another one of the event's organizers, told Reuters that he hopes the convention will dispel claims from many of the companies that make the machines that they are "unhackable."
"There's been a lot of claims that our election system is unhackable. That's BS," Braun said. "Only a fool or liar would try to claim that their database or machine was unhackable."
Over the weekend, hackers have the opportunity to tinker with voting machines that are still used in US elections. Hackers have the freedom to test how the machines can be manipulated remotely or physically through their hardware.
According to the official Twitter page of the event, one hacker was able to gain complete remote control of the operating system of a WINVote machine, including election data, in around an hour and a half.
Hackers also posted updates that they were able to break into Diebold machines and e-polling software within an hour.
At one point, the organizers set up a competition, splitting the group into a blue team that defended a mock Board of Elections network and voter registration database, and a red team that attempted to breach them.
Hackers at the event also heard from security experts and others who are working to keep election systems safe from outside influence.
Blaze said that he hopes the event will also raise awareness about the vulnerabilities of voting machines, and the need for more security.
"You never know what that kind of a spark will ignite. My hope is that we'll see a broadening of the community of people interesting in improving the security of our election system," Blaze said, according to USA Today.
You can share this story on social media: